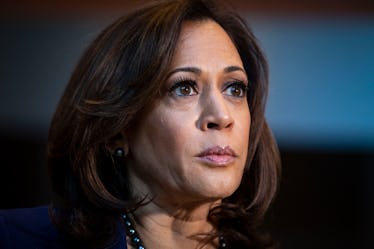 These Kamala Harris Quotes About Donald Trump Show She's Far From A Fan
Al Drago/Getty Images News/Getty Images
Senator Kamala Harris' (D-California) apparent feelings for President Donald Trump have been on full display as of late. Over the past few months, she's taken aim at his policies, called him names, and made some poor jokes about him. And that's really just the brink of it. Here are four of Kamala Harris' quotes about Donald Trump that suggest that their relationship will never be BFF level.
While her comments about the commander-in-chief date back years, it seems that they've really multiplied in the wake of Harris' presidential announcement. Heck, she even appeared to take a shot at Trump in her announcement video. In the video, posted to Twitter on Jan. 21, Harris shared the reasons why she's running, which include, "Truth, justice, decency, equality, freedom, democracy." She continued on to say those things are "all on the line now."
Even so, Trump later applauded her campaign launch, saying in a Jan. 31 interview with The New York Times that Harris has had "the best opening so far" in the 2020 primary race. (See a full list of those candidates here.)
Maybe Trump simply didn't take those comments as a diss, but there's honestly no denying some of these other ones. Let's take a closer look at them below, shall we?