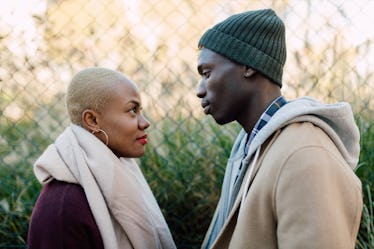 4 Cute "I Miss You" Texts To Send Your Partner When You're Long-Distance
Once you've decided that being in a long-distance relationship is something you're willing to try, keeping the connection between you and bae strong is key. Fortunately, coming up with some cute texts to send your partner when you're long-distance can be a great way to show them you care. Even though life can get super busy, when you're long-distance, making extra effort to be present in your partner's daily life can make a big difference your relationship unfolds. According to relationship coach, psychologist, and author of Resilient Me: How to Worry Less and Achieve More, Sam Owen, texting daily, in addition to weekly video chats is a solid way to stay connected.
"It's nice to start and end your day connecting with each other even if you can't speak for the rest of the day," Owen previously told Elite Daily. "Ensure at least one video chat [per week] is a quality chat for a reasonable length of time where neither feels like they are being rushed. Connect on the phone for the same frequency if you can't via video chat." If you need some romantic inspiration, here are some sweet texts that'll let bae know they're on your mind.