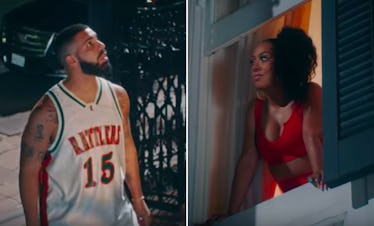 4 Drake & Kiki Couples Costume Ideas If You're Riding With Your Bae This Halloween
YouTube
Kiki, do you love... Halloween? Because I certainly do. There's candy, there are the most classic films of all time dedicated to the holiday (you cannot tell me that Hocus Pocus is anything but legendary), and there's the chance to dress up like your favorite celebrity. What's not to love? And lately, Drake has been having a real ~moment~ in the spotlight after his album, Scorpion, had some stellar tracks, so it would be understandable if you feel the need to channel your favorite "In My Feelings" rapper this Halloween. The good news is that you can totally do so with these Drake and Kiki couples costume ideas! Come on, people. You know you want to know more about how you can dress up like Drake and, well, whoever the real Kiki may be.
Now look, if you're not quite sure who Kiki is, you're probably not alone, so let me give you a quick recap: On June 29, Drake released his album, Scorpion, and on it was the song "In My Feelings," which became somewhat iconic because of its creation of The Shiggy, a dance move made popular by Instagram comedian Shiggy, but also because so many people were wondering who the heck Drake was talking about with his lyrics:
Kiki, do you love me? / Are you riding? / Say you'll never ever leave from beside me / Cause I want ya, and I need ya / And I'm down for you always
While we don't know who for sure who Kiki is, we think it's totally OK to be a little imaginative with this one, and you've actually got a few options. You can dress up as the Kiki from the "In My Feelings" music video, or you can go with the two potential real-life Kikis that Drake may have been referencing: either singer and TV personality Keshia "KeKe" Chanté — who Drake has reportedly admitted to writing songs about and revealed that she was one of his first crushes — or a woman named K'yanna Barber, whom was reportedly linked to Drake back in October 2017, according to gossip outlets.
So for the Kiki costume idea number one, go ahead and check out the video below to garner some inspiration:
Got it? Good. Then let's get to it.
For Drake:
You have it so easy for this one. While there are a few looks that Drake shows off, the most memorable is definitely his first appearance in his "In My Feelings" video, and to recreate it is so, so easy.
Rattlers White Basketball Jersey, $37, BorizJerseys
While paying almost $40 for a shirt might seem a bit steep, just remember that that is basically all you have to do for this costume.
But, if you want to amp things up even more, you can flash some bedazzled grillz like Drake was rockin' in the video, like these:
Lureen Gold Silver Pave Full Iced Out CZ Grillz 6 Top and Bottom Grillz, $20, Amazon
Then, just pop on some dark denim or sweats and some white kicks, and you're done!
For "In My Feelings" Kiki:
I *love* this costume idea and think that it can be pulled off perfectly if you use the below ideas as a guide. And don't forget those colorful nails!
Lace-Up Crop Top & Mini Skirt Set, $38, Forever 21
This set is actually super similar to the one that Kiki wore in the video, and the bonus is that you can wear this out to a party (or walk around in your apartment if you're feelin' yourself) and get tons of extra use out of this outfit. Then, throw your hair up in a super high ponytail, and add hoop earrings, like these:
Girl Talk Hoop Earrings, $6, Fashion Nova
You're officially Kiki... or, at the very least, one of the potential Kikis out there.
For Keshia "KeKe" Chanté:
Luckily for this one, we have a video of Chanté and Drake together acting suuuperr flirty, so just copying the wardrobe from the now-famous clip is going to be a piece of cake. Chanté's look is a simple, sheer black top, like this:
Sheer Drop-Shoulder Top, $28, Forever 21
Then just add an adorable green fedora hat with a black buckle, like this one:
OSTAYLER Women's Floppy Jazz Hat Fedora Cap, $23, Amazon
And if you prefer your significant other to resemble the look from this video of Drake and Chanté rather than the "In My Feelings" Drake, just have them throw on a plain white t-shirt and a few gold chains. Boom.
For K'yanna Barber:
Because Barber doesn't have any real presence in the media (and no public documentation with Drake), you can channel this look from her Insta:
It's a pretty easy one to replicate — just throw on a cool camouflage-style jacket, like this one:
Active Camo Print Windbreaker, $28, Forever 21
Then add a layered gold necklace with a dangling geode:
BaubleStar Disc Chain Star Tassel Layering Choker Necklace, $8, Amazon
Voilà! You're officially KB. Then have your significant other wear the same costume as the "In My Feelings" Drake, and you guys will be like two peas in a musical pod. Not too shabby, if you ask me.
The only rule is, if anyone asks who you're dressed up as, you have to have your phone handy so you can play "In My Feelings" while doing The Shiggy. That's a non-negotiable.