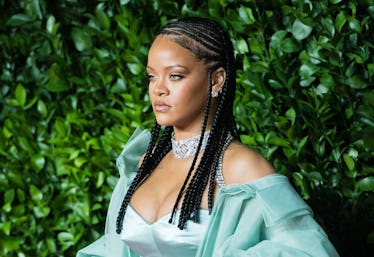 4 DIY Iconic Rihanna Looks To Slay Halloween With This Year
Samir Hussein/WireImage/Getty Images
OK, guys, how are we doing on our Halloween costumes? Figured out what you're wearing yet? We've given you a bunch of ideas, so hopefully you've got a killer costume by now since we're only two weeks away from the best holiday out of all the holidays. But in case you haven't, we've rounded up some amazing DIY Rihanna costumes to help you slay this Halloween.
We're all in agreement that Rihanna is the fashion icon of our time. I am the biggest Beyoncé stan in the world, and even I will admit that no one holds a candle to Rihanna's fashion. (I love you Bey and your fashion is to die, but Rihanna is just... Rihanna.) Because of that, there's a sh*t ton of looks you can recreate for your Halloween costume this year. The best part about her fashion is that she always, always looks good, so even if you want to take a funnier spin on your Rihanna costume and dress up as, say, her taking her wine with her after she eats at restaurants, you'll still probably look better than everyone else because Rihanna always comes correct. So here are some perfect DIY Rihanna costumes to help you win Halloween:
We only include products that have been independently selected by Elite Daily's editorial team. However, we may receive a portion of sales if you purchase a product through a link in this article.
1. Fenty Beauty Launch Rihanna
Rihanna slayed us again with the mustard yellow look at the U.S. Fenty Beauty Launch. If you remember Rihanna's 2016 Met Gala look with the long, embellished mustard-yellow robe, then you know how much the color mustard yellow belongs to Rihanna (and Beyoncé in the "Hold Up" video). If you don't remember Rihanna's 2016 Met Gala look, how dare you?
You can recreate Rihanna's Fenty Beauty launch look with the help of these items:
The final things you'll need are gold strappy heels and lots of gold jewelry, both which can be found on Amazon.
2. Denim Rihanna
There are few things to wear in the world that are more comfortable than an oversized dress, and Bad Gal RiRi knows that. That's why she often steps out in them, whether during a promo shoot or dinner in NYC with friends. In 2019, Rihanna wore a certain denim dress twice: the first time with dark jeans underneath, and the second time, she bared her legs and paired the dress with chunky jewelry.
This look is perfect because there's literally nothing better than a Halloween costume that's stylish and comfortable as hell.
The actual denim corset dress Rihanna wears from Fenty is pretty pricey at $810, however, so you'll really have to think about if you want to commit to buying it. You'll obviously wear it more than once because it's amazing enough to wear anywhere, but it won't be kind to your wallet, so choose wisely. If you decide you want a cheaper option, you can get a near-identical one from Free People:
To give it an added RiRi flare, perk your lips up with your favorite red lipstick, and add a bunch of rings from Amazon.
3. Red Carpet RiRi
Rihanna's look at the The Fashion Awards 2019 was so classic. She arrived in a mint green dress, matching gloves and heels, and slayed the entire night. To recreate this look, start with a green minidress.
Add a matching pashmina and gloves.
Adding the heels will complete the look.
4. "This Wine Is Mine" Rihanna
A hero of a Twitter user made a thread that consists just of Rihanna leaving restaurants and taking her wine with her. This is my favorite Rihanna out of all of the Rihannas. Since she's wearing a typical RiRi outfit in each of these photos, you can basically just wear an outfit you love and pair it with a glass of wine and some Fenty Beauty makeup. Yet again, Rihanna provides us with the perfect costume. You can easily recreate this red dress with red wine look below:
And you do so by getting a long, thin-strapped, red velvet dress, pair it with some strappy heels and your favorite black leather jacket, and you're on your way. Here's how you create this look:
Put a black bow in your hair and pair it with your favorite dark lipstick and you're set. But don't forget the wine. Never forget the wine.