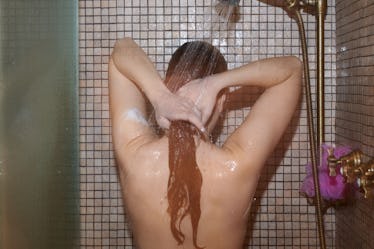 How To Have Successful Shower Sex In A Cramped Dorm Bathroom
One of the most shocking revelations of college life (at least in the beginning) is that getting intimate in a dorm filled to the brim with people can be extremely difficult. Although some insist quiet sex in shared quarters simply comes with the territory, not everyone is down with having an essentially public hookup — especially when space is tight. That's why it's of the utmost importance to get creative. Cramped shower sex positions might not be the most glamorous way to get sensual with your bae, but they definitely are practical. As you've probably discovered, the bathroom is just about the only place where you are completely free to do whatever you want (within reason).
If you want to keep your sex life in full swing while your roommates are none the wiser, then what are you waiting for? However, if you're a newbie to the whole shower hookup thing, then here's your one and only warning: Things can get slippery, so be careful. The last thing you want is for one of you to end up with a concussion and have to give your RA all the dirty details. So, here are four shower-sex positions that don't require much room.