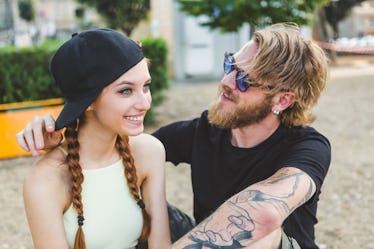 4 Best Things About Being Introduced As Your Partner's Girlfriend, Because It's So Lovely
There comes a time in your relationship when you and your partner make the transition from casual to ~official~. No matter how long it takes, once you've had "the talk", you're probably going to start hearing your bae refer to you as their girlfriend or partner. This is particularly true when they're introducing you to their friends, colleagues, or family members for the first time. The best things about being introduced as your partner's girlfriend might be subtle in the grand scheme of life, but that doesn't mean you don't deserve to revel in all of their amazing glory. Admit it: It feels good!
But let's be real. While dating can be a ton of fun, it can also be an immensely draining process. Although not everyone needs a partner to be happy, finding someone to share your heart with (whether you were looking for it or not) is one of the greatest feelings in the world — as is the rush of warmth that comes from knowing they're eagerly putting the new label to good use. This minor change in verbiage can feel like a huge deal, and it is! That's why you definitely deserve to soak it in.