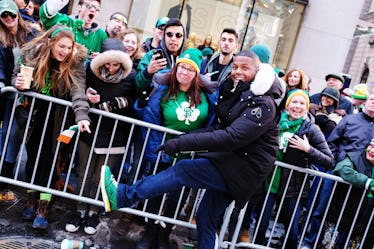 37 Captions For St. Patrick's Day Parade Pics With Your Favorite People
Nicholas Hunt/Getty Images Entertainment/Getty Images
The greenest day of the year is right around the corner, my friends. And by green, I mean sippin' on green beer with your squad and sporting your St. Patrick's Day best. If you're 21 and up, I'm sure you already have plans to bar hop around town or whip up a few green cocktails of your own. St. Patrick's Day is an incredible celebration — so you're bound to join in on the fun and games... along with the hundreds of pics your friends will be snapping during the festivities. To pair with your snaps, you'll need solid captions for St. Patrick's Day parade pictures.
Heading to a St. Patrick's day parade is the quintessential experience for the holiday. What other day of the year do you cheer on green, sparkly floats and catch candy, then head to your go-to pub to sip on a pint of green beer? It's the perfect occasion to spend time with your favorite people, while dressing head-to-toe in green attire.
Of course, with all of the fun going on, it'll take some focus for your bestie to capture the ultimate plandid — but I believe in you all. If you manage to snap that perfect shot in between your cheers, you'll need the right words to pair with it. These 37 captions are meant for pictures of your crew at the parade.
1. "Irish kisses and shamrock wishes." — Unknown
2. "Irish lass with lots of sass." — Unknown
3. "Too cute to pinch." — Unknown
4. "No one entertains us as much as us."— Unknown
5. "Sorry, I'm pinch-proof." — Unknown
6. "Find your tribe. Love them hard." — Unknown
7. "You and I are more than friends. We're like a really small gang." — Unknown
8. "Consider me shamrocked." — Unknown
9. "I see green people." — Unknown
10. "Here to Paddy!" — Unknown
11. "I've been practicing for this day all year." — Unknown
12. "Take a pitcher, it will last longer." — Unknown
13. "Let the good times roll." — The Cars
14. "Cheers, my dears." — Unknown
15. "Shamrockin' and rollin'." — Unknown
16. "You're the 'she' to my 'nanigans.'" — Unknown
17. "Irish drinking team here, reporting for duty." — Unknown
18. "If you're lucky enough to find a weirdo, never let them go." — Unknown
19. "Life is a celebration, Enjoy it well." ― Uruj Shahid
20. "Good times and crazy friends make the best memories." — Unknown
21. "You're pretty much my favorite person of all time in the history of ever." — Unknown
22. "Making memories with you is one of my favorite things to do" — Unknown
23. "Irish you were beer." — Unknown
24. "Live for the memories you can't put into words." — Unknown
25. "Pot of gold? More like pot of goals." — Unknown
26. "We've been friends for so long I can't remember which one of us is the bad influence." — Unknown
27. "These are my kinda people." — Unknown
28. "Friends: have less, but the best." — Unknown
29. "Queen of shenanigans." — Unknown
30. "Surround yourself with people who get it." — Unknown
31. "You're so weird (don't change)." — Unknown
32. "Wishin' you a pot of gold and all the joy your heart can hold." — Unknown
33. "Warning: I may be prone to shenanigans and malarkey." — Unknown
34. "When you're this cute, who needs luck?" — Unknown
35. "You're my lucky charm." — Unknown
36. "I knew when I met you an adventure was going to happen." — A.A. Milne
37. "I pinch back." — Unknown