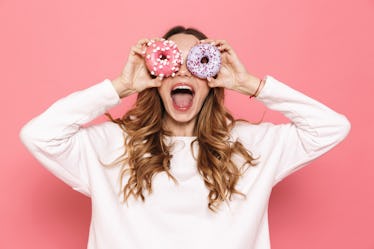 36 Captions For Dunkin' Donuts Pics That Espresso How Much You Love It
In my opinion, no slogan has ever been truer than "America runs on Dunkin'," because when I'm crashing hard at work, the only thing that keeps me going is my beloved styrofoam cup of coffee. And while I'm at it, of course I feel the need to grab one of those delicious doughnuts (or two). Everyone has a go-to Dunkin' order. My doughnut of choice is chocolate frosting with sprinkles. And when I'm feeling super friendly, I like to get a box of munchkins to share with my girl squad. It always puts a smile on my face. If you feel the same love for Dunkin' as I do, you'll need some Instagram captions for Dunkin' Donuts pics.
I have to admit that sometimes, I like to stray away from my doughnut of choice if something is really catching my eye. Like, right now, the Halloween doughnuts at Dunkin' are cute AF and totally Instagram-worthy. So, I'll order up a few, and make sure to snap a foodie pic for the 'Gram before taking a bite. I'll even show my coffee some love with a sippin' selfie. I understand the need to 'Gram before you indulge, and to help you make it easier, here are 36 captions you'll love a latte. Don't want to waste a second before diving into your Dunkin' treats, so snap, share, and get to savoring ASAP.
1. "I'll share my life with you. But, not my doughnuts." — Crystal Woods
2. "You can't buy happiness, but you can buy Dunkin' Donuts." — Unknown
3. "All you need is love and doughnuts." — Unknown
4. "I dough-nut know what I'd do without Dunkin' Donuts." — Unknown
5. "I'm glazy about you." — Unknown
6. "Donut worry, be happy." — Unknown
7. "I don't need an inspirational quote. I need coffee and a doughnut ASAP." — Unknown
8. "Eat more hole foods." — Unknown
9. "Doughnuts before bronuts." — Unknown
10. "Stressed, blessed, and coffee-obsessed." — Unknown
11. "I can't espresso how much you bean to me, doughnut." — Unknown
12. "Dough-nut cramp my vibes." — Unknown
13. "Whatever sprinkles your doughnuts." — Unknown
14. "I like big cups and I cannot lie." — Unknown
15. "More doughnuts, please." — Unknown
16. "The circle of life." — The Lion King
17. "Today's good mood is sponsored by coffee." — Unknown
18. "Have a doughlightful day!" — Unknown
19. "I wanna call you mine for a hole lifetime." — Unknown
20. "What are you drinkin'?" — Unknown
21. "I got 99 doughnuts, 'cuz a betch ate one." — Unknown
22. "Sorry for what I said before I had my Dunkin'." — Unknown
23. "We go together like coffee and doughnuts." — Unknown
24. "You mean dough much to me." — Unknown
25. "A coffee a day keeps the grumpy away." — Unknown
26. "But first, coffee." — Topher McCulloch
27. "Dough-nut stop believin'." — Unknown
28. "Dough-nut go breaking my heart." — Unknown
29. "Maybe she's born with it. Maybe it's caffeine." — Unknown
30. "You are so brew-tiful to me." — Unknown
31. "Strawberry frosting with sprinkles, please." — Unknown
32. "I love you a latte." — Unknown
33. "My blood type is coffee." — Unknown
34. "You can all come out now, I've had my Dunkin'." — Unknown
35. "Oh, dough-nut even." — Unknown
36. "With a doughnut in each hand, anything is possible." — Jameela Jamil