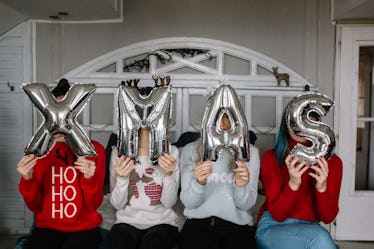 36 Best Captions For Christmas 2018, So You Can Sleigh Your Insta Feed
Cue your favorite Christmas carols. Thanksgiving has passed, so that means it's officially acceptable to start celebrating all things Christmas, am I right? After all, it is the most magical time of the year. It's time to start decorating your Christmas tree, if you haven't already. Hit up Netflix to stream every new Christmas movie, check out Pinterest for holiday-inspired recipes, do some research to find the nearest tree lighting ceremony, break out your fuzzy socks and flannel PJs, start Christmas shopping until you drop, and take Insta-worthy pictures to remember it all. Here are the best captions for Christmas 2018, because 'tis the season.
Imagine taking a step back in time so that you could relive your favorite Christmas from when you were growing up. Many of us get so nostalgic when we think of this time of year, but Christmas doesn't have to be any less magical just because we aren't kids anymore. As far as I'm concerned, you're never too old for Christmas cheer.
During this time of year, there's so much to do. There's no better time to get crafty, host a potluck, go Christmas caroling, hop on a flight to see the Northern Lights, or road trip to a winter wonderland destination with your besties. Christmas only happens once a year, so make the most of it's here!
1. "All I want for Christmas is you." — Mariah Carey, "All I Want For Christmas Is You"
2. "It's time to sleigh this holiday."
3. "There's snow place like home."
4. "It's beginning to look a lot like Christmas." — Meredith Willson, "It's Beginning to Look a Lot Like Christmas"
5. "Hello, Christmas. Goodbye, never."
6. "Bring out the Christmas tree. Let's get lit."
7. "Rosy cheeks, cozy sheets."
8. "Sleigh, baby. Sleigh."
9. "Fairy lights on winter nights."
10. "Ice ice baby." — Vanilla Ice, "Ice Ice Baby"
11. "Christmas magic is in the air, pick your warmest sweater to wear."
12. "Keep calm and jingle on."
13. "All I want for Christmas is my boo."
14. "This is the best holiday ever. Don't debate me."
15. "I'm dreaming of a white Christmas, but if the white runs out, I'll drink the red."
16. "Merry Elfin Christmas."
17. "Christmas day: feast mode."
18. "You rock my Christmas socks."
19. "Christmas sweaters look better when we wear them together."
20. "What did one ornament say to another? 'I like hanging with you.' Get it?"
21. "Meet me under the mistletoe."
22. "Blessed and Christmas-obsessed."
23. "All the jingle ladies! All the jingle ladies!"
24. "Hope you have a tree-mendous Christmas."
25. "But first, let me take an elfie."
26. "You better watch out. You better not cry. You better not shout when I eat your apple pie."
27. "#Sleighhhhhhhhhhh."
28. "'Happy holla-days."
29. "No Grinches allowed."
30. "'Tis the season to eat all the Christmas cookies."
31. "Silent night. Holy night. All is calm. My christmas tree is bright."
32. "Sorry about the Christmas cookies, Santa. Maybe next year."
33. "Keep your friends close, your enemies closer, and receipts for all major purchases."
34. "I'm only a morning person on December 25th. Sorry, not sorry."
35. "'Sleigh my name, Sleigh my name."
36. "Dear Santa, is it too late to be good?"