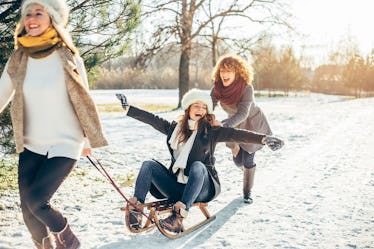 35 Clever Captions For Sleigh Ride Pics With Your Snow Angels
In my opinion, winter activities are the best activities. (Don't @ me.) Maybe it's because I grew up in Florida, but there's something seriously magical about about all things related to winter. I live for the first snowfall of the year, and I hit up the ice rink multiple times throughout the season. I fully embrace the blanket scarves and beanie hats, and of course, I try to go on at least one sleigh ride. If you're like me and you're including sleigh rides on your winter to-do list, you'll need some captions for sleigh ride pics.
Sleigh rides are always so much fun. They're romantic and dreamy, especially when the snow is quietly falling around you. You can pretend you're one of Santa's elves delivering presents to your nieces and nephews, or you can put on a Christmas playlist and act like you're in a holiday rom-com. Regardless of your vision, a sleigh ride will never fail to get you in the holiday spirit.
Whether you're just going on one sleigh ride or you plan to go multiple times this season, you'll definitely take a ton of cute pictures. Bring these captions alone for the fun so that you can totally sleigh your Instagram feed — and make all your friends laugh with some seriously clever winter puns. Now, sleigh cheese!
1. "Sleigh queen."
2. "Come on, it's lovely weather for a sleigh ride together with you." — Leroy Anderson, "Sleigh Ride"
3. "There's snow place like home."
4. "That sleigh ride was the best in snow."
5. "Sleighed it."
6. "Yasss, SLEIGH!"
7. "When the weather gives you the cold shoulder..."
8. "Winter activities are the best, to sleigh the least."
9. "There's snow way out."
10. "Check your elf before you wreck your elf."
11. "Dashing through the snow. In a one-horse open sleigh. O'er the fields we go. Laughing all the way." — James Lord Pierpont, "Jingle Bells"
12. "Never sleigh never."
13. "Ice to meet you."
14. "Sleighed Monday."
15. "Sleigh cheese!"
16. "Won't you guide my sleigh tonight?" — Johnny Marks, "Rudolph, the Red-Nosed Reindeer"
17. "Sleigh rides are snow much fun."
18. "The latest weather reports are leaving us on thin ice."
19. "This is a super cute pic, if I do sleigh so myself."
20. "Icy what you did there."
21. "Just sleigh the word, and I'll be there."
22. "Your winter puns are snow laughing matter."
23. "Can't you hear the jolly jingle of the sleigh bell serenade?" — Bing Crosby, "Sleigh Bell Serenade"
24. "It was love at frost sight."
25. "Sleigh my name sleigh my name."
26. "Let it snow, let it snow, let it snow." — Sammy Cahn, "Let It Snow! Let It Snow! Let It Snow!"
27. "There's snow business like snow business."
28. "I have the final sleigh on all things winter."
29. "Walking in a winter wonderland." — Felix Bernard, "Winter Wonderland"
30. "This weather is snow joke."
31. "Sleigh it loud and sleigh it proud."
32. "Let's not and sleigh we did."
33. "As I was sleighing, winter is the best season of the year."
34. "And as any child can tell you, there's a certain magic that comes with the very first snow, especially when it falls on the day before Christmas." — Narrator, Frosty the Snowman
35. "There's snow possible way I could come up with any more winter puns."