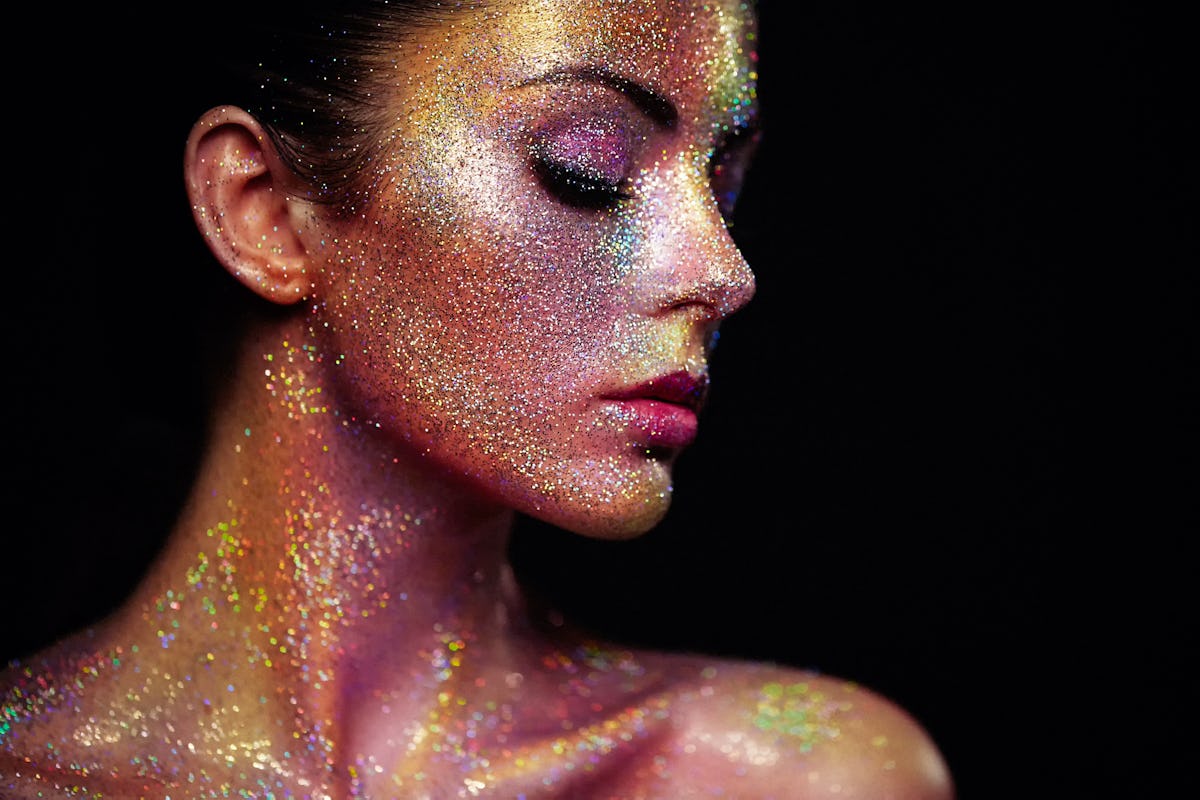 35 Captions For Glittery Halloween Makeup That Sparkle Like Your Eyeshadow
Other than eating all the candy, my main goal for Halloween is to look as fab as possible. For any fellow Halloween lover, you understand the importance of picking out just the right costume. You may have been going back and forth between ideas for months. Now, the time has come to decide on the perfect outfit — and it doesn't just stop with what clothes you're going to wear. All Hallows' Eve is the perfect time to go all out with your makeup. If you're going for a fairy, mermaid, or unicorn look, you'll need some captions for glitter makeup that sparkle just as much as your eyeshadow.
Whether you're dressing up as a disco ball or are just a huge glitter lover, you plan on being head-to-toe covered in sparkles. It's easy nowadays to find glitter everything, from glitter hair spray to opal unicorn balm. With just a little balm, you have an instant sparkle highlighter effect on your cheeks. (It's downright perfect for your mystical rainbow creature costume.)
If you're not a pro at perfecting your glittery winged eyeliner, don't fret. According to Inside the Magic, you can get a complimentary "Ghoulish Glam" Sephora makeover if you hit up Universal Studios Halloween Horror Nights Hollywood this year. How sweet is that? Of course, your glistening look deserves a selfie for Instagram, so when you're ready to post, use any of these 35 captions.
1. "Less bitter. More glitter." — Unknown
2. "Glitter is the new black." — Unknown
3. "And when all the glitter fades, there'll still be stardust in her veins." — Michelle Schaper
4. "She's bright like glitter and bubbly like champagne." — Unknown
5. "Anyone can be fabulous. I mean, look at glitter. It's really just shiny dirt." — Unknown
6. "She leaves a little sparkle wherever she goes." — Kate Spade
7. "Glitter is always an option." — Unknown
8. "Shine bright like a diamond." — Rihanna, "Diamonds"
9. "When in doubt, just add glitter." — Unknown
10. "Sorry for what I said when I wasn't wearing my sparkly winged eyeliner." — Unknown
11. "I'm easily distracted by anything that sparkles." — Unknown
12. "Trick or treat. Smell my feet. Give me something glittery." — Unknown
13. "There's no such thing as enough glitter." — Unknown
14. "Everyday I'm sparklin'." — Unknown
15. "I'll have a triple sparkle macchiato with extra glitter." — Unknown
16. "Glitter is my basic." — Unknown
17. "It's the glitter that matters." — Unknown
18. "My blood type is glitter." — Unknown
19. "There is a time and place for glitter: Always and everywhere!" — Unknown
20. "She who leaves a trail of glitter is never forgotten." — Unknown
21. "You're not fully dressed until you sparkle." — Unknown
22. "You sparkle the most when you are you." — Unknown
23. "She bleeds glitter, and sweats charisma. A walking aphrodisiac." — Erin Van Vuren
24. "Have you ever thrown a fistful of glitter in the air?" — P!nk, "Glitter In The Air"
25. "If I had a power color, it would definitely be sparkle." — Rachel Hollis
26. "The holidays are just another excuse to wear more glitter." — Unknown
27. "Throw some glitter, make it rain." — Kesha, "Blow"
28. "Looking fab-boo-lous." — Unknown
29. "Witch better have my glitter." — Unknown
30. "This is my resting witch face." — Unknown
31. "*Glistens.*" — Unknown
32. "Form a circle of glitter to protect from zombies, witches, and old boyfriends." — Take on Hocus Pocus quote
33. "Too glam to give a damn." — Unknown
34. "When you're around me, you're going to get glitter on you." — Kesha
35. "When you're a haunt mess, throw on some glitter." — Unknown