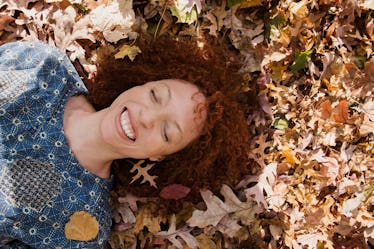 34 Witty Captions For Fall, Because You're Already Living In Your Flannels & Leggings
Fall is almost in full swing, which means that it's finally time for your Instagram feed to reflect your inner pumpkin spice queen. Let's be honest: No Instagram post is totally complete without a cute caption (that's been approved by your besties who love fall as much as you do, of course). Fall pictures are honestly the best: You might opt for fresh caramel-colored highlights, and your wardrobe transitions from sundresses and sandals, to cozy sweaters and combat boots. The leaves around you change the most beautiful hues of orange and yellow, and the air feels a little crisper. Whether you're diving into a pile of leaves, getting lost in a corn maze, hitting up a farmers' market, or finally planning out your Halloween costume, here are 34 witty captions for fall that won't disappoint.
Real talk: You probably hold off on posting a picture until you have the absolute perfect caption to accompany it. And because you'll definitely be hitting up a ton of fall-themed, Insta-worthy spots this season, you're going to need a collection of captions in your back pocket ready for any fall-tastic situation. If you're feeling like a punny witch or love making jokes about how much pumpkin spice lattes are your favorite, this list of captions will help you plan the best possible fall feed.
1. "Fall so hard mother pumpkins wanna spice me."
2. #UnbeLEAFable
3. "Don't be a basic witch."
4. "The only thing getting lit this weekend are my fall-scented candles."
5. "Pumpkin spice and everything nice."
6. "I'm here for the boos."
7. "Trick or treat yo' self."
8. "Boo, Felicia."
9. "Oh my gourd I love fall."
10. "At this point, my blood type is pumpkin spice."
11. "I'm FALLing for this PSL."
12. #RestingWitchFace
13. "Leaf me alone."
14. "And they lived apple-y every after."
15. "I know it's corny, but you're a-maize-ing."
16. "Hello, gourdgeous."
17. "Stay BOOtiful."
18. "Orange you glad it's fall?"
19. "If you've got it, haunt it." — Rose Pressey
20. #SquadGhouls
21. (also) #SquashGoals
22. "May the forest be with you."
23. "How do you like them apples?" — Will Hunting, Good Will Hunting
24. "Hay there!"
25. "Creep it real."
26. "Cheers, witches."
27. "If you fall, I'll be there." — Floor
28. "I'll never ghost you."
29. "Mummy of the year."
30. "It may be 80 degrees outside, but pumpkin spice everything is out and I can wear autumn colors, so fall-la-la-la-la... FALLelujah!"
31. "Fall is coming."
32. "Sorry for what I said when I didn't have my pumpkin spice latte."
33. "Witch better have my pumpkin spice latte."
34. "I think I'm falling for you." — Colbie Caillat, "Fallin' For You"