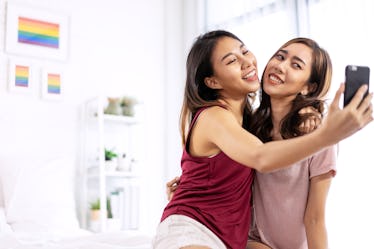 34 Insta Captions For Pics Of Queer Couples That Show Your Love Your Way
Shutterstock
Though it's hard to pin down my most favorite thing about being queer, embracing fluidity in all its forms is definitely at the top of my list. Whether one day I'm feeling super masculine and the next, I want to look like Cher, or I switch up what words I use to describe my identity. No matter what, queerness means embracing and celebrating every version of yourself, whoever that may be. Of course, when it comes to showing off your beautiful queer love, knowing some versatile Instagram captions for queer couple photos can really come in handy.
Some days, you may want to make a political statement with your relationship. Other days, you may just want to be a person in love. But every day, you get to choose how you show your love to the world and what words you use to describe it. Whether you and your boo live for a mirror selfie or you like to ask random people to take your picture (@ me), there's no wrong way to get the perfect shot.
And when you've found the perfect picture and added all the best filters, (Huji Cam or bust), here are 35 captions for your totally queer couples pic.