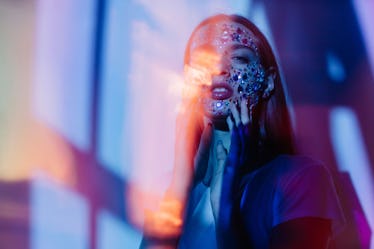 17 Pride Insta Captions That Show Off Your Rainbow Makeup
Sharing your Pride Month beat to Instagram is critically important business. Crafting an enviable Pride look may just be a seasonal objective on the Gay Agenda, but it is important to give yourself credit! You probably worked super hard to get your respective Pride colors blended just right onto your skin. Or maybe you ordered a special highlighter or rhinestones, or labored over glitter wing precision. Whatever the case, having perfect Instagram captions for rainbow makeup during Pride Month is crucial: You need to astutely remind your Instagram followers that you are, indeed, a bad, queer, talented b*tch.
And besides, Pride is meant to be a season of unabashed LGBTQIA+ celebration. So own it! Revel in it! Marsha P. Johnson and Sylvia Rivera didn't go up against institutional transphobia and homophobia for you to start feeling shy now. It may seem frivolous to some, but fashion and beauty are important to the LGBTQIA+ community. It's our means of expressing our truest selves, especially in a (heteronormative, cis-centric) world that actively discourages us from being ourselves.
Pride looks different this year, as many in-person celebrations are forced to go virtual out of caution for public safety amid the coronavirus pandemic. Even if you can't celebrate with loved ones in public, you can rock a #look from the safety of your own home.
Whether you're going for big femme glam, an androgynous glitter explosion, or will just be adding a swipe of Pride to an everyday look, here are some captions to add that finishing touch to your Pride makeup Insta post.
This article was originally published on