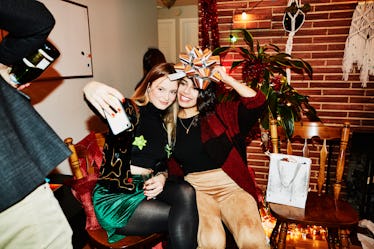 34 Captions For Christmas Break That Are Snow Perfect For Instagram
Who else is counting down the days until Christmas break? College is an amazing experience, but let's face it — you work your butt off and deserve a little break from the books. It's time to tie up any loose ends before the semester comes to a close. Before you know it, you'll be packing up your bags and cruising home for Christmas. Christmas break might just be one of the most exciting times of the year, and it's easy to see why. Here are some of the best captions for Christmas break so that you can sleigh every holiday picture with your family and hometown crew.
When you return home, you'll be able to kick back and relax. You'll get to watch all of your favorite Netflix shows, reconnect with your high school friends, and clear your mind before going into the new year. You have absolute freedom with your time while you're out of school, and there's no better feeling than that. Take advantage of it and create some memories you'll be able to look back on for years to come. Don't forget to snap some pictures along the way.
1. "Do Santa's cookies pair well with white wine? Asking for a friend."
2. "Twinkle, twinkle, little star. How I wonder what my gifts are."
3. "In Christmas mode. Do not disturb."
4. "I could have sworn it was Christmas morning, but it looks more like a parade went through the living room."
5. "Sneaking one last gingerbread cookie from the cooling rack. (Don't tell Mom)."
6. "Ready to sleigh my outfit on Christmas day."
7. "It's officially Christmas sweater season and I don't hate it."
8. "The only gift I need for Christmas is you."
9. "Blame it on the mistletoe."
10. "Just here for the spiked eggnog."
11. "Snowy hair, don't care."
12. "Are they serving spiked hot chocolate here?"
13. "Oops! I caught the Christmas feels."
14. "But first, Christmas music."
15. "I might be on the naughty list this year. Sorry, not sorry, Santa.
16. "But first, let me take an elfie."
17. "'I'll just have one Christmas cookie,' said no one ever."
18. "That Christmas tree, though."
19. "O Christmas tree, o Christmas tree." — Ernst Anschütz, "O Christmas Tree"
20. "I'm only a morning person on December 25th."
21. "Christmas waves a magic wand over this world, and behold, everything is softer and more beautiful." ― Norman Vincent Peale
22. "Christmas is doing a little something extra for someone." ― Charles M. Schulz
23. "There snow place like home."
24. "Let's make it a December to remember."
25. "Keep calm and have a Merry Christmas."
26. "All is calm. All is bright. Can't wait to see you on Christmas night."
27. "Merry-kiss me."
28. "I'm dreaming of a white Christmas, but if the white runs out, I'll drink the red. (Duh.)"
29. "Don't get your tinsel in a tangle."
30. "I love Christmas break, but I miss college already."
31. "Ready to rock my Christmas socks and wear my Christmas sweater."
32. "Cue the ugly Christmas sweaters."
33. "Christmas party-ready."
34. "Dear Santa... I can explain."
This article was originally published on