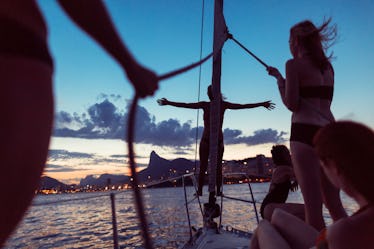 33 Instagram Captions For Cruises, Because Your Vacation Mode Is On
Let's face it: Summer's end is quickly approaching, which means it's almost time to bid farewell to your favorite season. However, there's still time for one last vacation before the chillier months set in, so why not embark on a cruise as your last summer hoorah? No matter what cruise ship you choose, celebrate your vacation by letting your loyal Insta followers live vicariously through your endeavors. From sweeping ocean views to beach selfies, the photo opps are endless, and there are so many Instagram captions for cruises to make your pics stand out from the rest.
Cruises are fun and efficient; you can visit multiple destinations in one trip, which means you're being smart AF with your vacation days. There are also so many options when it comes to choosing the perfect cruise for you; there are millennial cruises, '90s-themed cruises to satisfy your nostalgia, and even one for Royal fanatics. (Sign me up for all of these, please and thank you.)
I've searched near and far across the Internet to ensure that these 33 captions are the best of the best, because top-notch research is super important to maintaining your fire Insta game.
1. "All I need is some vitamin sea."
2. "Sunshine on my mind."
3. "Girls just wanna have sun."
4. "Live in the sunshine, swim the sea, drink the wild air." — Ralph Waldo Emerson
5. "Ocean air, salty hair."
6. "Life is better in flip flops."
7. "Vacation mood: on."
8. "Good vibes happen on the tides."
9. "Watch more sunsets than Netflix."
10. "Say yes to adventure, especially in the summer."
11. "Salty air, sun-kissed hair *insert sun and wave emojis*"
12. "Time for some Vitamin Sea *insert beach emoji*"
13. "Out of office."
14. "Not all stars belong in the sky."
15. "Let the sea set you free."
16. "An ocean breeze puts mind at ease."
17. "We can go to the tropics, sip pina coladas, shorty I can take you there." — Sean Kingston, "Take You There"
18. "Sunshine's gonna wash my blues away." — Zac Brown Band, "Knee Deep"
19. "Good vibes happen on the tides."
20. "Gone coastal, be back never."
21. "BRB, getting ship faced."
22. "Life is better in a bikini."
23. "You'll find us chasing the sun." — The Wanted, "Chasing The Sun"
24. "Good times and tan lines."
25. "I'm walking on sunshine." — Katrina and The Waves, "Walking On Sunshine"
26. "Life's a beach, I'm just playin' in the sand." — Lil Wayne, "Right Above It"
27. "Life's a beach, I got a cold drink in my hand, and my toes in the sand, can't get me down." — Heymous Molly, "Life's a Beach"
28. "Bizarre travel plans are dancing lessons from God." — Kurt Vonnegut
29. "Tourists don't know where they've been, travellers don't know where they're going." — Paul Theroux
30. "I love to travel, but hate to arrive." — Albert Einstein
31. "When you're on a golden sea, you don't need no memory. Just a place to call your own, as we drift into the zone." — Weezer, "Island in the Sun"
32. "I woke up this morning, smiled at the rising sun." — Bob Marley, "Three Little Birds"
33. "Always take the scenic route."
So get to soaking up the sun and 'Gramming everything you can while enjoying your getaway.