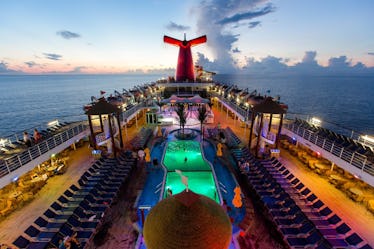 This Caribbean Cruise Is '90s-Themed & It'll Make You Feel So Nostalgic
If you're a fan of a killer throwback playlist, then you'll definitely want to hear about this latest mashup. No, it's not Brandy and Monica sing-fighting about "The Boy is Mine," but it does involve the hits from your favorite decade and soaking up some Florida sun. That's right, this '90s-themed "Ship-Hop" Caribbean Cruise is a real thing, and it'll take you right back to the best days of mixtapes and roll-on glitter.
The Ship-Hop cruise aboard the Carnival Sensation ship is filled with all the '90s nostalgia that you could ever need to warm up your winter, according to Cruise Critic. Not only will the hottest jams be playing, but many of the classics will be performed by the artists themselves. Seriously, the guest list is practically a who's-who of an episode of I Love the '90s.
Some of the heavy hitters include Salt-n-Pepa, Vanilla Ice, Naughty by Nature, Coolio, and Sisqo. I know, it's a lot to handle. I'll give you a second to grab your Dream Phone to let all your '90s besties know about this ultimate reunion.
Unfortunately, the cruise sailing from Miami to Key West and Cozumel, Mexico departed on Jan. 11, 2018 (so you can't jump onboard this one), but you can read up on all the throwback fun — so you're prepared in case lightening strikes twice and this '90s dream vacation happens again.
Honestly, the lucky ones aboard the Ship-Hop cruise are about to live every millennial's dream. From treating yourself to an ice cream cone served up by none other than Vanilla Ice himself to snapping all the pics with your favorite '90s Hip-Hop and R&B artists (for free!), this cruise about to induce so much FOMO.
You'd think that mingling with the likes of Coolio and Blackstreet would be enough to satisfy the '90s theme of the cruise, but it does not stop there.
The Ship-Hop cruise is also coming in hot with theme nights. There's "My So Called Prom," which you can expect to be filled with updos complete with "face-framing" tight curls and the brightest glitter eye shadow that Wet n' Wild has to offer. The dance moves won't be too difficult to bust out either, since you'll have All-4-One and Color Me Badd laying down the tracks.
If getting glam to the max isn't your thing, then you can hit your '90s sweet spot at the "Rollin' with the Jammies" slumber party. You'll grab your coziest pajamas (also suitable for dancing, of course), and get ready to never whip out the sleeping bag — because instead of sleeping, you'll be putting together all the best '90s dance moves thanks to a soundtrack provided by Salt-n-Pepa's DJ Spinderella.
Since the '90s had no shortage of eye-popping dance moves, there is another theme night where you can bust all the moves that you can think of; it's called "White Night." Even though the name synonymous with a white party won't actually be there, you can still keep it fresh in an all-white ensemble that would make even P. Diddy proud.
With all of these '90s-inspired nights, you'll likely be ready for some downtime during the cruise. No worries, you can "chillax" during "T.G.I.F." night when you'll be able to kick back and enjoy some of the classic television shows that graced your TV back when you didn't need to borrow a Netflix password for quality entertainment.
Other totally tubular activities include a '90s-themed workout complete with all the neon and spandex you can handle. And of course, your ears will be treated to the sweet, sweet sounds of the biggest '90s stars from the moment you board until you land back to reality.
After reading up on all the perfectly '90s-themed activities, this sounds like the best way to relive the decade when your wardrobe was furnished by Limited Too and you spent all of your free time snacking on Dunkaroos and washing them down with a Hi-C Ecto Cooler.
Again, this Ship-Hop cruise has will set sail from Jan. 11 through Jan. 15, but you never know when your lucky '90s stars might align again.
Check out the entire Gen Why series and other videos on Facebook and the Bustle app across Apple TV, Roku, and Amazon Fire TV.