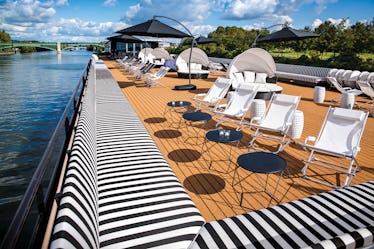 These "Millennial Cruises" Will Make Your Next Friend Group Vacation So Lit
U by Uniworld
If you're a millennial right now, consider yourself lucky. If you're a millennial with the travel bug, consider yourself luckier. I know, you might be thinking, "But... money!" Trust me, I get it. Plane tickets and hotels can get expensive as you country hop your way through Europe. However, there's a new way to avoid those sky-high prices while still seeing the places on your bucket list. No, I'm not talking about backpacking through the nation. I'm talking about river cruises... millennial river cruises. If you aren't familiar with these dream boats for 20-somethings, let me tell you about six millennial river cruises through Europe that'll totally change the way you travel.
Millennial-only cruises were first introduced by the company U by Uniworld — the sister brand of the award-winning Uniworld Boutique River Cruise Collection — and only allow passengers between the ages of 21 and 45 on board. U by Uniworld has two ships called "The A" and "The B," and each one only holds 120 passengers. (In other words, you'll be making a lot of friends while you're sailing through the rivers of Europe.) Based on your cruise selection, the ship will country-and-city hop its way through Europe, making overnight stops and longer stays in major cities. Some of the stops include Paris, Amsterdam, Budapest, and Frankfurt.
TBH, these ships are like floating hotels. Check out "The B" in the video below (and try not to get too jealous of everyone on board).
Like hotels, U by Uniworld ships come with tons of amenities that include a set number of meals on board, a welcome party, U Hosts, different excursions (depending on the trip you choose), an onboard DJ, and more. Some amenities depend on the cruise you pick, so choose wisely. And of course, keep in mind that you don't stay on the ship the entire time. The beauty of U by Uniworld cruises is that you can get off the boat and explore the country by foot before returning to the ship (aka, your floating hotel).
If you can't decide where you want to go, I have your back. Check out some millennial river cruise options with U by Uniworld below.
1. Paris To Paris
This millennial river cruise, called "The Seine Experience," will take you on a trip through Paris, France (starting and ending in the City of Lights). During the 8-day trip, you'll make four stops and experience all that Paris has to offer. (Yes, you can take your much-needed IG pic in front of the Eiffel Tower. In fact, you can even take it while you're still on the ship.) This trip includes seven breakfasts, one brunch, and six dinners — plus other amenities you won't want to miss out on (including an onboard French mixology class). YUP. If you're interested, this all-inclusive trip costs $1,759 per person.
Oh, if you watch The Bachelor, you might be familiar with this one. Ari Luyendyk and the women competing for his love appeared on this ship during a recent episode, where the crew spent time on "The B."
2. Amsterdam To Frankfurt
This 8-day millennial cruise, called "Rolling on the Rhine," will take passengers on a trip from Amsterdam, Netherlands to Frankfurt, Germany. Travelers will makes stops in Haarlem, Cologne, Bonn, and Koblenz, and will get to partake in activities like exploring the beautiful Keukenhof Gardens and biking along the Rhine River. Special amenities include 14 meals on board, a welcome party, onboard wine tasting, and more. This all-inclusive trip costs $1,519 per person.
3. Frankfurt To Regensburg
This millennial cruise (which is also 8 days long) is called "Germany's Finest," because it'll take you on a journey through popular German hot-spots filled with fun (and Insta-worthy) activities. Some include a bike trip along the Main river and a trip to medieval castles and wineries. Of course, these are in addition to the on-ship amenities, which include 14 meals on board, a welcome party, an onboard beer mixology class, and more. This all-inclusive cruise costs $1,519 per person.
4. Regensburg To Budapest
This 8-day millennial cruise, called "The Danube Flow," will take you on a journey from Regensburg, Germany to Budapest, Hungary. During the trip, you'll get to venture off the boat and enjoy a private opera show in Vienna, go on a pub crawl through Budapest with your host, and so much more. Of course, there are more activities to choose from, and they're all separate from the on-ship amenities. This cruise includes 14 meals on board, a welcome party, an onboard mixology class, and more. This all-inclusive trip costs $1,759 per person.
Now that you've seen a few itineraries for these U by Uniworld millennial cruise ship lines, let's quickly get into more onboard activities that are universally available (regardless of which trip passengers choose). Other amenities on the ships include yoga sessions, a rooftop lounge with local DJs, culinary food programs relating to the cities passengers are visiting, a silent disco, mixology classes, a gym, and more.
At this very moment, I am stoked to be a millennial. If you are too, you can check out more details about the cruises on U by Uniworld's website.