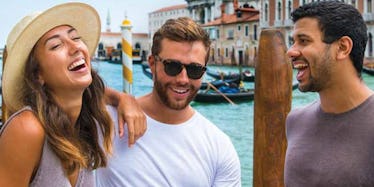 This Millennial-Only Cruise Ship Is Making The Coolest Stops And We're Intrigued
U by Uniworld
These days, it seems like millennials have it made. Literally, there are so many events and services catered to our crowd, it's almost as if we should've expected a millennial-only cruise ship to, well, cruise into our wanderlust-filled daydreams. Unsurprisingly, one actually has. It's called U by Uniworld, and it's "meant to be a line where Instagram moments are made" for just $200 to $250 per day.
Here, let's go through everything this innovative new cruise liner -- which will set sail in 2018 -- has to offer those of us who are 21-45 years old.
The Ships
U by Uniworld has two all-black ships. One is called "The A" and the other one — you can probably guess — is called "The B." Each will be able to accommodate 120 guests, making the crowd fairly small when compared to mainstream cruises that can tote tens of thousands of people per trip.
The Destinations
Both ships (aka sailing hotels) will make overnight stops along Europe's rivers, including major cities like Paris, Amsterdam, and Budapest. All you have to do is hop off, and Insta-worthy tourist snaps are at your fingertips.
To help guide your travels, U by Uniworld's sister brand, Contiki, will even offer night tours. The goal, according to Cruise Critic, is to keep the itineraries "more experiential" and to "allow passengers to really connect with a city and the people who live there."
Colleen McDaniel, senior executive editor of Cruise Critic, explained it like this in a statement sent to Elite Daily:
Country-hopping throughout Europe can be an exhausting – and often expensive – experience, and U by Uniworld aims to counter that with an all-in-one vacation tailored to a brand new audience for the line and European river cruising as a whole.
Check out their full list of destinations and prices on their website.
The Amenities
Just like a landlocked hotel, U by Uniworld's ships will have plenty of extras onsite. From rooftop lounges and nightclubs to yoga studios and coffee bars, the onboard experience will be anything but drab.
In fact, the ships are "part boutique hotel, part yacht, and part resort."
Celebrity cookbook author Bea Thollman will be in charge of the food, while the ships' bartenders will be serving up craft beers with each meal and hosting expert mixology classes. And don't worry — WiFi will be available, so you'll be able to share everything with your followers as it happens.
Just like AirFrance's new airline for millennials, Joon, I am super excited to try out U by Uniworld. Did I mention Victoria's Secret model Petra Nemcova is their "guardian angel"? All the more reason to #DoItForTheGram.