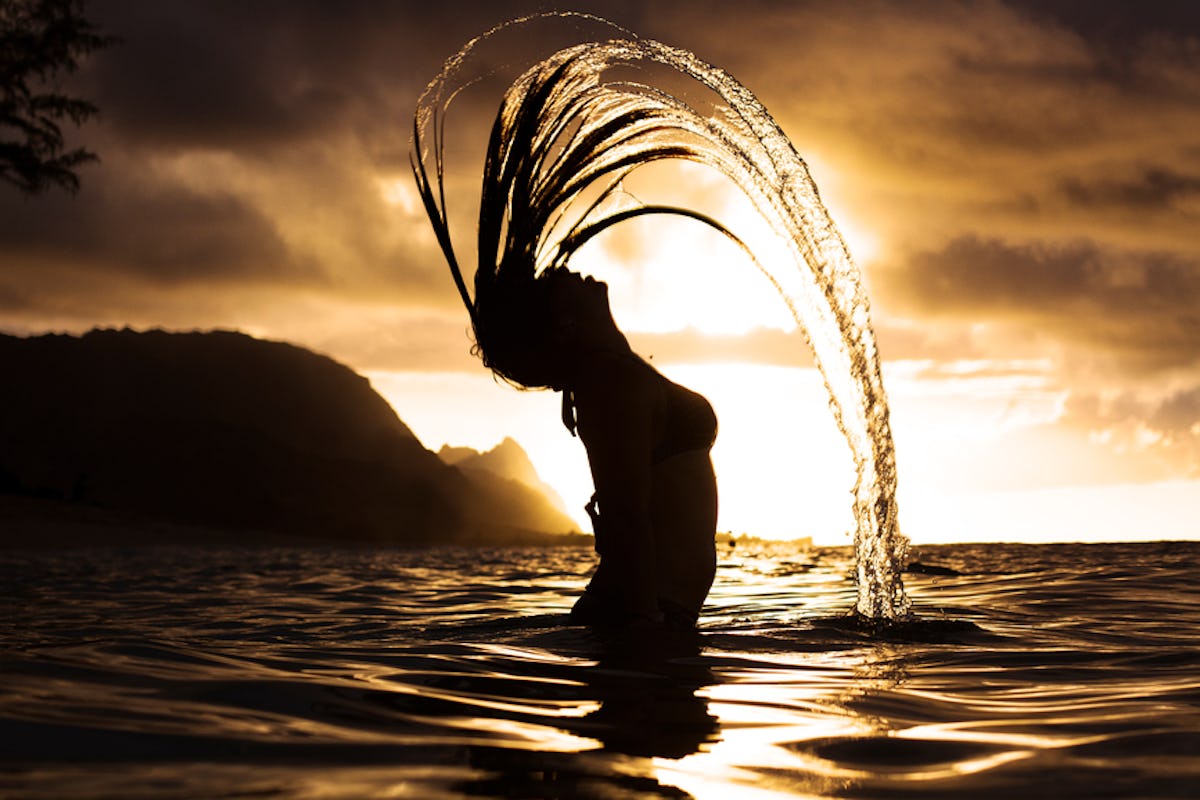 33 Captions For Your "Beach Hair, Don't Care" Pics To Shine The Sun On Your Feed
There's hardly anything that beats a day spent at the beach. Sand may not be your favorite thing in the world, but the sunshine and water that accompany sure do make up for that rough stuff. The way the beach makes your hair look and feel is a great product of a successful ocean day as well. Therefore, whether you're going somewhere warm on spring break or just hittin' up a tropical adventure, beach hair Instagram captions are necessary for those sun-kissed snaps.
You of course want to make sure you're keeping your hair hydrated after a long day soaking up all of that sun, and definitely don't use heat on it since it's already getting a ton from the sun. But, embrace those beach waves and salty locks. Even if the sun doesn't do anything to your hair, it's bound to look really good in all of your Insta-worty pics. The ocean will do that for ya'.
Hair truly is an expression (and extension) of who you are and your personality, so posting it for all to see is a pretty dope idea. There's also just something about the golden halo that follows you around during a beach vacay, so that's definitely something you're going to want to share with your followers (You know, so they can take part in some of the salty fun as well.).
1. "Ocean air, salty hair." — Unknown
2. "Tangled hair, don't care." — Unknown
3. "Life is short. Make each hair flip fabulous." — Unknown
4. "Life's a beach, enjoy the waves." — Unknown
5. "Coconuts, curls, and confidence." — Unknown
6. "Your hair tells a lot about you. Make sure it's telling the right story." — Unknown
7. "Salt in the air, sand in my hair." — Unknown
8. "Baby, I wanna let my hair down, play me something that'll make me jump around." — Nelly Furtado, "Let My Hair Down"
9. "Sorry, I can't hear you over the volume of my hair." — Unknown
10. "Salt washed." — Unknown
11. "May your coffee be as strong as your hair game." — Unknown
12. "Find someone who treats you as well as the beach treated my hair." — Unknown
13. "Sun-kissed hair was the highlight of my trip." — Unknown
14. "I'm as free as my hair" — Lady Gaga, "Hair"
15. "Au Naturel." — Unknown
16. "Beach daze. Hair waves." — Unknown
17. "And at the end of the day, your feet should be sandy, your hair messy, and your eyes sparkling." — Unknown
18. "I brush my eyebrows, not my hair." — Unknown
19. "Good hair should not stay home on a beach day." — Unknown
20. "I'm a queen crowned in my curls." — Unknown
21. "Lettin' my hair do the talking." — Unknown
22. "Messy bun, gettin' stuff done." — Unknown
23. "High tides, good vibes." — Unknown
24. "We turn our back and whip our hair and just shake em off." — Willow Smith, "Whip My Hair"
25. "Invest in your hair. It's the crown you never take off." — Unknown
26. "Hair is jewelry. It's an accessory." — Jill Scott
27. "I'm throwing shade like it's sunny." — Nicki Minaj, "Want Some More"
28. "My hair is always camera ready." — Unknown
29. "I like to walk around with bare feet and I don't like to comb my hair." — Beyoncé Knowles
30. "Your hair is 90 percent of your selfie." — Unknown
31. "Love is in the hair." — Unknown
32. "That's why her hair is so big! It's full of secrets." — Damian, Mean Girls
33. "I may not be perfect, but my beach hair can be." — Unknown