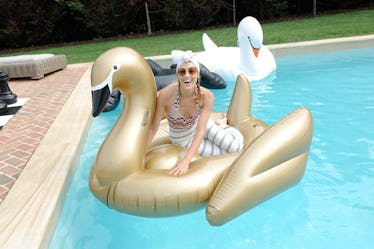 32 Insta Captions For The Hamptons, Because It's Officially Summer, Beaches
Matthew Eisman/Getty Images Entertainment/Getty Images
It's officially summer, beaches. Call up your day ones, grab your best bikinis, and be shore to head to the nearest beach. If you're having trouble deciding where you should go, why not consider hitting up the Hamptons? The Hamptons is a coastal community just several hours from New York City. You heard that right! Escape the crowds and sizzling heat of The Big Apple for the weekend, and get your tan on at the beach. These Instagram captions for the Hamptons will perfectly capture your summer trip.
The Hamptons is home to seaside houses, lush vineyards, trendy restaurants, and bustling bars. Let's just say, there's something for everyone. If you want to relax, you can hang at the beach. If you're about that brunch life, you'll have plenty of menus to choose from. If you want to sip some fine wine among the vines, you'll enjoy visiting wineries. If you want to party, look no further. So much to do, so little time. Basically, the Hamptons is a slice of heaven on earth. You'll never want to leave, and you'll always want to return. So, bottom's up (if you're 21 or older).
1. "Live for today, plan for tomorrow, party tonight." — Drake, "The Real Her"
2. "Work hard, brunch harder" — Unknown
3. "Dear ocean, thank you for making us feel tiny, humble, inspired and salty... all at once." — Unknown
4. "At the beach, life is different. Time doesn't move hour to hour but mood to moment. We live by the currents, plan by the tides and follow the sun." — Sandy Gingras
5. "Brunch without champagne is just a sad breakfast." — Unknown
6. "Too much of anything is a bad thing, but too much champagne is just right." — F. Scott Fitzgerald
7. "If there's a heaven for me, I'm sure it has a beach attached to it." — Jimmy Buffett
8. "Live to work. Work to party. Party to live." — Yevgen Reztsov
9. "I live for the nights that I can't remember with the people that I won't forget" — Drake, "Show Me a Good Time"
10. "It's a smile, it's a kiss, it's a sip of wine... it's summertime!" — Kenny Chesney
11. "Bring on the night." — Unknown
12. "I am on a 24-hour Champagne diet." — Drake
13. "It's been one blur of fun." — Lilly Pulitzer
14. "This is where the fun stuff happens." — Unknown
15. "Make it pop like pink champagne." — Unknown
16. "And so the adventure begins." — Unknown
17. "Act like Audrey. Dress like Jackie. Party like Gatsby." — Unknown
18. "Turn down for what." — Lil Jon
19. "It's wine o' clock." — Unknown
20. "Tropic like it's hot." — Unknown
21. "Girls just wanna have sun." — Unknown
22. "Adios beaches!" — Unknown
23. "The sun and the sand and a drink in my hand." — Unknown
24. "Life is a beach, I'm just playing in the sand." — Lil Wayne, "Right Above It"
25. "The tans will fade, but the memories will last forever." — Unknown
26. "There are a million fish in the sea, but me? I'm a mermaid." — Unknown
27. "Let's do some 'we shouldn't be doing this' things." — Unknown
28. "All good things are wild and free." — Unknown
29. "Worst behavior." — Unknown
30. "Absolutely shore." — Unknown
31. "Feeling good, feeling right. 2 a.m., summer night" — Kid Cudi, "Pursuit Of Happiness"
32. "We're just having fun. We don't care who sees. So what we go out? That's how it's supposed to be. Living young and wild and free." — Wiz Khalifa, "Young, Wild & Free"