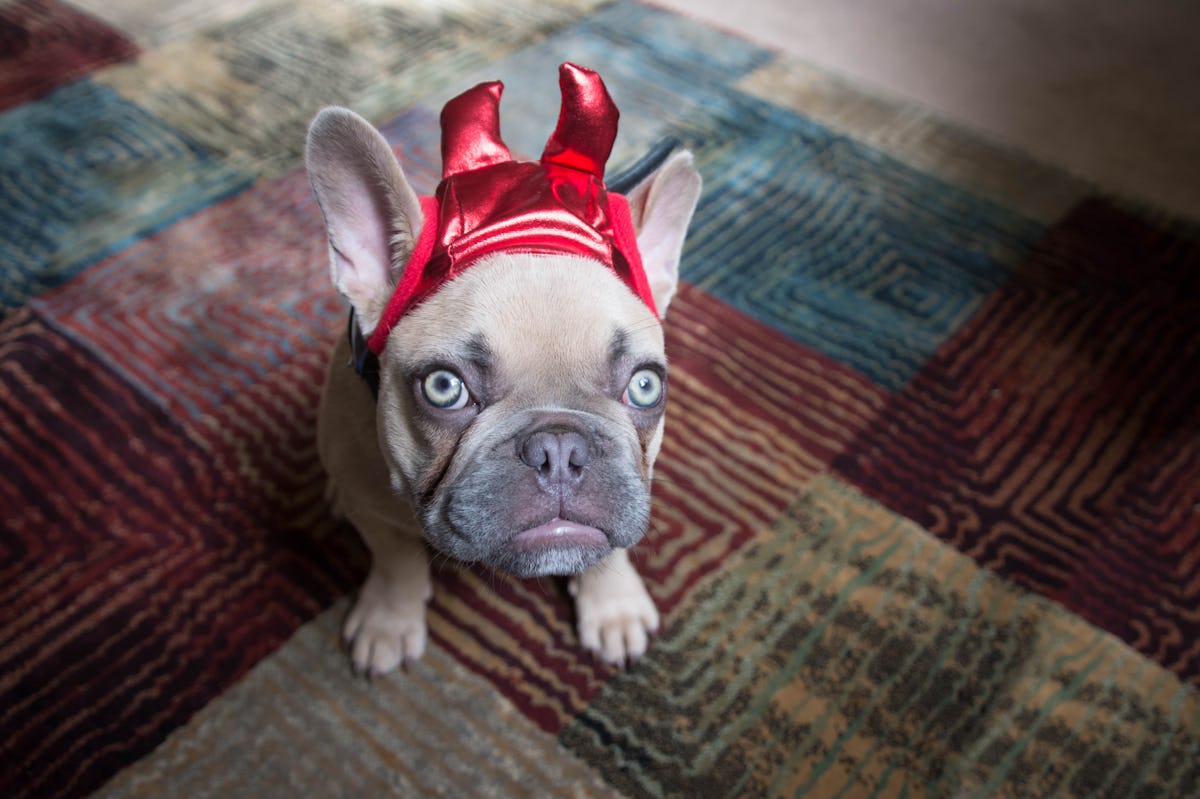 32 Downright Adorable Captions For Your Pup's Halloween Costume
Image by cuppyuppycake/Moment/Getty Images
Halloween is a time worth celebrating. There's plenty of outdoor fun to do with your friends and family leading up to the holiday, but one member of your family often gets left out. Your fur baby is as important to you as your absolute best friends, so you must include them in all of the Halloween shenanigans. These adorable Instagram captions for dogs will help you and your pooch capture the true essence of Halloween as they show off in their adorable costume.
If you're a pawrent, you know your dog will be dressed up for Halloween this year. You may have bought your pupper costumes in the past, but that's no reason to let your dog miss out on the fall festivities. They will look more adorable than they ever have before (if that's even possible), and they will steal the hearts of trick or treaters everywhere.
As soon as your little BFF gets into their costume, the photoshoot will commence. In a matter of minutes, your camera roll will be filled with snaps of your sweet angel. The Instagram post of your pup in their getup could go viral overnight, but your picture needs to stand out among all of the other doggos in costume.
The right caption will draw the attention of your audience. Take advantage of the holiday with some clearly thought-out Instagram posts to boost your interest and have some fun with your pup this Halloween. These festive and punny photo captions will be the perfect pair with your fur baby's sweet face.
1. "Creep it real."
2. "That's just my resting witch face."
3. "Happy Howl-o-ween."
4. "Witch better have my candy."
5. "Don't make me get the flying monkeys." — The Wizard of Oz
6. "Trick or treat yourself to this cuteness."
7. "I feel pawsitively bootiful."
8. "Spookin'."
9. #SquadGoals (because your dog is the only squad you need)
10. "Ready to pawty."
11. "Fur-well, October! It's been fun."
12. "Let's get spooky."
13. "When black cats prowl and pumpkins gleam, may luck be yours on Halloween."
14. "Say boo and scary on."
15. "By the pricking of my thumbs, something wicked this way comes." —William Shakespeare
16. "Looking fur-ocious."
17. "Everything's better with a little magic."
18. "Don't I look fetching?"
19. "Life isn't perfect, but your outfit can be."
20. "Too cute to spook."
21. "Trick or treat? Did you say treat?"
22. "Fashion, darling."
23. "Every day is Halloween, isn't it? For some of us..." — Tim Burton
24. "I think we all know who won the costume contest."
25. "Point me in the direction of the treats."
26. "Keep calm and say boo."
27. "Does all this fur make my butt look big?"
28. "It's just a bunch of hocus pocus." — Hocus Pocus
29. "This is where the magic happens."
30. "Just here for the treats."
31. "Witch way to the treats?"
32. "There is magic in the night when pumpkins glow by moonlight."