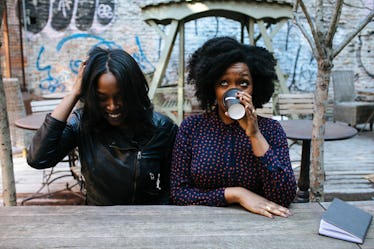 32 Instagram Captions To Show Love On Your Black Sisterhood Photos
Don't you hate when you and your girls take the perfect selfie, just to find out you've gone blank when coming up with the perfect caption? There's already perfect lighting, hair on fleek, melanin glistening, and boom... nothing in your notes section worthy of posting! It's truly tragic, I know. In case you missed the memo, I already broke down exactly why black sisterhood — and black sisterhood quotes — is so important. As black women, we are definitely rooting for "everybody black" — à la Issa Rae, and we love to celebrate the success and accomplishments of our fellow black girls. Creating the perfect caption to go with your Instagram posts featuring the women you love most only proves to be another way to show support for each other — both in real life and on social media.
We've all been at a loss for words every now and again, and yes the caption completely solidifies a photo, so don't feel bad when you've spent hours searching for the perfect song lyrics to complete yours. To make it all a bit easier for you, here are 32 captions for the perfect picture of you and your girls. Happy posting!
"Black Girl Magic." — CaShawn Thompson
2. "OK ladies, now let's get in formation." — Beyoncé
3. "The type of girl that if you get her, you could brag." — PnB Rock
4. "I am dripping melanin, and honey, I am black without apology." — Upile Chisala
5. "Feeling good, living better." — Drake
6. "Feminine with pretty women friends, all dimes." — Eve
7. "Queendom 👑 " — Unknown
8. "My team good, we don't really need a mascot." — Drake
9. "Melanated and educated." — Unknown
10. "Girls that got diplomas and enough money to loan us." — Drake
11. "Black excellence, opulence, decadence." — Jay-Z
12. "My whole team winning we don't play your game." — Drake
13. "Maybe she's born with it, maybe it's Melanin." — Unknown
14. "Sometimes you need your ego got to remind these fools." — Jay Z
15. "I got loyalty, got royalty inside my DNA." — Kendrick Lamar
16. "Whole Squad on that real sh*t". — Drake
17. "Real friends, how many of us? " — Kanye West
18. "Competition? Why yes, we would love some." — Nicki Minaj
19. "I bet you wanna know what my crew about, you really wanna know how we get down." — Rihanna
20. "Got my three best friends like we do it all the time, we gon' do it again." — Beyoncé
21. "We dope girls, we flawless. We the poster girls for all this!" — Nicki Minaj
23. "Stay pretty. Be educated. Dress well. Get money." — Unknown
22. "I don't care what you think me, I don't think about you at all." — Coco Chanel
24. "Phenomenal woman, that's me! " — Maya Angelou
25. "Sometimes you just have to throw on a crown, and remind them who they're dealing with." — Marilyn Monroe
26. "Beautiful. Brave. Blessed & BLACK." — Unknown
27. "Black Girls Rock." — Beverly Bond
28. "She is clothed with strength and dignity and she laughs without fear of the future." — Proverbs 31:25
29. "As I look around, they don't do it like my clique." — Big Sean
30. "Dipped in chocolate, bronzed in elegance, enameled with grace, toasted with beauty. My lord, she's a black woman." — Dr. Yosef Ben-Jochannan
31. "I met God, she's black." — Unknown
32. "You could be the king, but watch the queen conquer." — Nicki Minaj