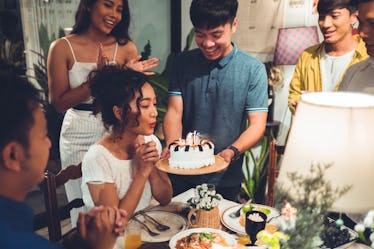 31 Captions For Birthday Party Pics, Because You're Here For The Confetti Cake
Shutterstock
For someone who is birthday-obsessed, the top thing on your mind leading up to the big day is likely what kind of party you want to have. Over the years, you may have had intimate dinners with your loved ones and bigger celebrations with friends. But this year, you're looking to top last year's festivities with something extra memorable. That's why you'll need some Instagram captions for birthday parties.
You may be planning on having a backyard picnic party with your roomies, complete with rosé, flamingo string lights, and party hats. Or, you might be having an intimate party on your rooftop that solely consists of you and your partner. No matter what your vision of the dream birthday party may be, you know that a selfie in your new outfit is inevitable. So, it won't hurt to have some clever captions on hand when it comes time to debut your look on social media.
You're the main attraction, after all, so on the big day, your friends will be vying for your attention. At your party, you'll be too busy splitting your time between dancing to the latest Ariana Grande song, digging into your sweet slice of confetti cake, and posing for snaps with your friends. Don't waste a second of the fun trying to come up with your own birthday party captions. Instead, consider this list of 31 witty birthday party quotes and punny sayings for Instagram as a present. Pair them with a picture slicing into your cake, dancing Boomerang, or selfie with your bestie. Then, get back to being the birthday queen you are, because the party awaits.
1. "Dancing into my birthday party like..."
2. "Act my age? Um, maybe next year."
3. "Doughnut be jelly. It's my birthday."
4. "On my birthday, I'm gonna celebrate every chance I get."
5. "Hear ye, hear ya, the birthday queen has arrived."
6. "If there's no cake, was it really a birthday party?"
7. "Does this filter make me look like a birthday queen?"
8. "Life is a party. Dress like it." — Audrey Hepburn
9. "Excuse me, I've got a dance floor that's waiting for me."
10. "Just dropping by to let you know it's my birthday."
11. "Let's be honest: I'm really only here for the cake."
12. "It's only right to party all night."
13. "Felt cute. Might go party all night for my birthday."
14. "Turn my birthday into a lifestyle." — Drake, "Pop Style"
15. "Come on Barbie, let's go party." — Aqua, "Barbie Girl"
16. "Vibin' and thrivin', always."
17. "Taco 'bout a party."
18. "Putting this party together was a piece of birthday cake."
19. "Nacho average birthday queen right here."
20. "The cake gets five out of five stars."
21. "Oh ship, it's my birthday."
22. "The birthday vibes were strong."
23. "Life's too short to have a drab birthday party."
24. "A party without cake is just a meeting." — Julia Child
25. "Happiest here."
26. "My people, our place."
27. "It's a lewk."
28. "It's beginning to look a lot like my birthday."
29. "Point me in the direction of the birthday cake."
30. "Here's a little gift of a selfie from me to you."
31. "'Too much glitter,' said no one ever."
This article was originally published on