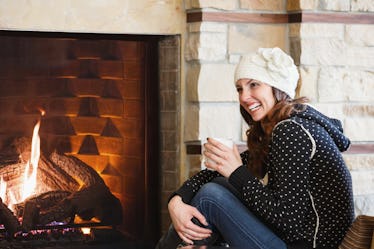 30 Ski Lodge Instagram Captions For When You're Cozy AF & Have Snow Where To Go
It's snow much fun to take a trip up the mountains for a ski and snowboarding weekend. By day, you're hitting the slopes taking in the fresh mountain air and powder. And I must admit, a true highlight of the whole trip is staying at the ski lodge. It's a cozy place to bundle up with either your family, friends, or even bae while staying on a picturesque snowy mountain. Speaking of picturesque — you'll want to snap as many pics as possible and post them with ski lodge Instagram captions to show your followers how much fun you're having.
It could be a picture of your steaming hot cup of cocoa in front of the fireplace, or it a cute shot of you and bae snuggling on the couch under a flannel blanket. Who knows, maybe your ski lodge has a hot tub that you can take a squad pic in. You don't need a tropical location for a vacation paradise. The mountains and your wanderlust are calling out to you, and the picture possibilities await.
You won't have to take a second away from relaxing, because these 30 ski lodge Instagram captions will surely pair well with your cozy snaps. That means instead of coming up with the right words to post, you're able to just order another round of hot drinks and enjoy your time. You're on vacation, after all, and you ain't got time for snow problems.
1. "The mountain is calling and I must go." — John Muir
2. "Let's wander where the wifi is weak." — Unknown
3. "The smell of the mountain air renews my soul." — Unknown
4. "Between every two pines is a doorway to a new world." — John Muir
5. "Stay cozy." — Unknown
6. "Cold, cozy nights, warm blankets, and hot chocolate." — Unknown
7. "Warm tea, good books, soft pillows, fine company." — Unknown
8. "Today, be grateful for the cozy, little moments in life." — Unknown
9. "Simplicity is the keynote of all true elegance." — Coco Chanel
10. "Go where you feel most alive." — Unknown
11. "Stillness gives us the chance to be fully present, and what a wonderful gift that is." — B. Oakman
12. "Come let us have some tea and continue to talk about happy things." — Chaim Potok
13. "We read in bed because reading is halfway between life and dreaming." — Anna Quindlen
14. "She did not need much, wanted very little. A kind word, sincerity, fresh air, clean water, a garden, kisses, books to read, sheltering arms, a cozy bed, and to love and be loved in return." — Starra Neely Blade
15. "Baby, it's cold outside." — Frank Loesser, "Baby, It's Cold Outside"
16. "Oh, the places you'll go." — Dr. Seuss
17. "The smallest things warm the heart." — Unknown
18. "Come with me, where dreams are born, and time is never planned." — Peter Pan
19. "It's amazing how manageable life can feel with only one blanket and the right two arms." — Unknown
20. "Let's cozy up under a blanket." — Unknown
21. "Kindness is like snow — it beautifies everything it covers." — Kahlil Gibran
22. "If kisses were snowflakes, I'd send you a blizzard." — Unknown
23. "Up to snow good." — Unknown
24. "Good friends are like snowflakes, all different and all beautiful." — Unknown
25. "Life's a mountain, not a beach." — Unknown
26. "Cuddle in a cup." — Unknown
27. "Take life one cup at a time." — Unknown
28. "Eat, drink, and be cozy." — Unknown
29. "Be like snow, cold but beautiful." — Lana Del Rey
30. "I'll never outgrow the excitement of looking out my window and seeing falling snow." — Unknown