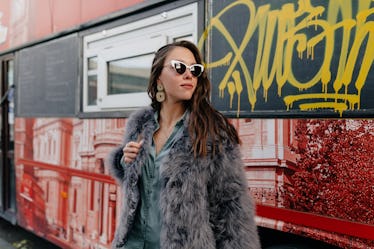 30 IG Captions For Groutfit Pics That Are Worthy Of Some Plandids
Shutterstock
You may be a major fan of joutfits (all-denim outfits), but today is the day you discover what a groutfit (all-gray outfit) is. It's time to put your jeans aside, because you're about to be totally hooked on those gray vibes. When you're wearing head-to-toe gray tones, you'll feel a sudden urge to snap some #OOTD pics, which is why Instagram captions for groutfit pics are truly necessary to have around.
The ultimate all-gray outfit can be chic or cozy. You can rock it on date night or when you're simply lounging at home with your roomies. And if you're only envisioning gray sweatpants and a pullover, it's time to widen your style imagination.
If you go to your closet right now, pull out every gray piece of clothing you own. Try combining a gray skirt you have with a sweet gray crop top. Pull it all together with your fave pair of gray booties, and you just found yourself a super cute outfit that you might have not thought to put together before. The best part about groutfits is that all hues of gray look totally fabulous together, so you don't even have to worry about clashing.
Inspire your friends to embrace this gray trend with you by posting a cute photo of you showing off your head-to-toe gray outfit on the 'Gram. Make sure to find a colorful and vibrant wall to stand in front of so you pop out even more. Then, choose a witty line from this list of 30 gray outfit captions so you can post right away.
1. "There's so much gray to every story — nothing is so black and white." — Lisa Ling
2. "'Cause even stars, they fade and colors turn to gray." — Mike Posner, "The Way It Used To Be"
3. "It's a vibe."
4. "Try the gray stuff, it's delicious." — Beauty and the Beast
5. "I'm wearing gray for days."
6. "Never underestimate the power of a good outfit."
7. "Bad vibes just don't go with my outfit."
8. "This is my forever mood."
9. "Them: How are you? Me: Feeling gray-t."
10. "She sees in black and white, thinks in grays, but loves in color." — JmStorm
11. "This must be the gray area everyone was talking about."
12. "I'm having the gray-test time."
13. "My wardrobe in a nutshell."
14. "Why gray? Because my ideas are colorful."
15. "Keep your pink. On Wednesdays, I wear gray."
16. "You can never own too much gray."
17. "Sweaters are just blankets you can wear to work."
18. "Gray but make it fashion."
19. "Never met a gray tone I didn't like."
20. "#aesthetic."
21. "Just your daily reminder that smiles are always in fashion."
22. "I've decided gray is my aesthetic now."
23. "One day I'll stop wearing all gray, but today is not that day."
24. "Dress like you're on your way to fashion week."
25. "Chic happens."
26. "The best advice I have for you: If you like it, wear it."
27. "I decided to bring my slay game to this lewk."
28. "With good basics, you'll have endless options."
29. "Feeling extra gray-teful today."
30."Fashion led me here."
This article was originally published on