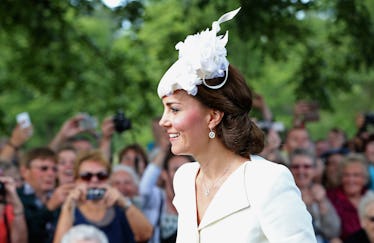 30 Instagram Captions For Fascinator Pics On The Day Of The Royal Wedding
Chris Jackson/Getty Images Entertainment/Getty Images
In addition to predicting how stunning Meghan Markle will look on her wedding day, many of us are looking forward to seeing the decorative headpieces. To be specific, fascinators are set to make a fashion statement at the royal wedding, because they're fancy AF. The feathers, elaborate beading, and everything else these babies are embellished with will surely make you swoon. You might even tell your girlfriends to wear fancy headpieces and pastel sundresses to your viewing party to fit in with the theme of the day. If that's the case, you'll want a backlog of Instagram captions for fascinator pics that are set to make a lasting impression on your feed.
Everything about the royal wedding will look like it popped straight out of a fairy tale, and I am so here for it. Your party will have to channel the regal vibes, too. If you don't have a fascinator of your own, it's time to hit up your local craft store and put your DIY skills to good use. Don't forget the glue gun and lots of accessories to get creative with.
You and your group of ladies might not have received invites to this dreamy affair (maybe next time), but posing in your fascinators will be like you're in the middle of the magic. Whether it's a fascinator you love on your TV screen or one you're wearing yourself, it needs one of these decorative captions to complete the ensemble.
1. "People will stare, make it worth their while." ― Harry Winston
2. "You can have anything you want in life if you dress for it." — Edith Head
3. "Fashion is never wrong." ― Malcolm McLaren
4. "Style is something each of us already has, all we need to do is find it." —Diane von Furstenberg
5. "Style is the only thing you can't buy. It's not in a shopping bag, a label, or a price tag. It's something reflected from our soul to the outside world — an emotion."— Alber Elbaz
6. "Be the one to stand out in the crowd." ― Joel Osteen
7. "A star does not compete with other stars around it; it just shines." ― Matshona Dhliwayo
8. "I want my outfit to match my mood." — Dakota Johnson
9. "A woman makes an outfit her own with accessories." — Oscar De La Renta
10. "Accessories are the exclamation point of a woman." — Michael Kors
11. "Accessories are the spice you sprinkle over our fashion recipes." — Jonet Wooten
12. "Fashion changes, but style endures." — Coco Chanel
13. "Style is a way to say who you are without having to speak." — Rachel Zoe
14. "Glitter is my signature color." — Unknown
15. "Style isn't just about what you wear, it's about how you live." ― Lilly Pulitzer
16. "When in doubt, just add glitter." — Unknown
17. "All dressed up and no place to go." — Unknown
18. "Playing dress-up begins at age five and never truly ends." — Kate Spade
19. "She is a queen. Her soul is royalty." — Adrian Michael
20. "Status: queen" — Unknown
21. "Don't mind me. Just queenin'." — Unknown
22. "Each day is a page in your fashion story." — Sandy M
23. "Every day is a fashion show and the world is your runway." — Coco Chanel
24. "If loving fashion is a crime, we plead guilty." — Unknown
25. "You're a whole lot of lovely." — Unknown
26. "Real queens fix each other's crowns." — Unknown
27. "Life isn't perfect, but your outfit can be." — Unknown
28. "Fashion is what you buy. Style is what you do with it." — Unknown
29. "Elegance is not about being noticed, it's about being remembered." — Giorgio Armani
30. "Dress like you're already famous." — Unknown