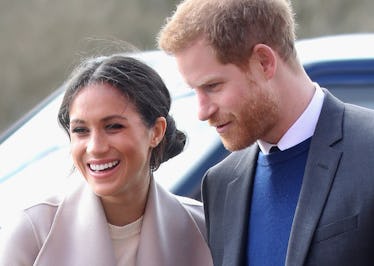 20 Captions About Love For The Royal Wedding, Because The Fairy Tale Is Real
Chris Jackson/Getty Images Entertainment/Getty Images
Meghan Markle and Prince Harry are living the fairy tale love story so many of us dreamed of when we were young. With the royal wedding right around the corner, we're swooning over every single detail leading up to the big day. Wherever you will be watching the wedding unfold on TV, you will want to have the perfect caption ready to post on Instagram. If you happen to have a royal wedding party planned of your own, Instagram captions about love to celebrate the occasion are in order.
The royal wedding is taking place on Saturday, May 19. Many people are already getting their Pimm's Cup recipes ready to toast, along with their favorite scone and cupcake recipes. Pictures of the wedding and your own party will be perfect to accompany captions about love, because that's what the day will be all about.
So many of us will be busy observing the many little details that we'll all inevitably fall head over heels for, including Meghan Markle's dress and the stunning floral arrangements. Then there will be the loving looks on the bride and groom's faces the entire time. Our social media feeds will be overflowing with all the love for this couple, so of course we want to join in on the fun, too. I did the work for you, and now you have the perfect captions for the perfect snap of royal love.
1. "Love is like the wind, you can't see it but you can feel it." — Nicholas Sparks
2. "So, I love you because the entire universe conspired to help me find you." — Paulo Coelho
3. "We loved with a love that was more than love." ― Edgar Allan Poe
4. "Two people in love, alone, isolated from the world, that's beautiful." — Milan Kundera
5. "He's not your prince charming if he doesn't make sure you know that you're his princess." ― Demi Lovato
6. "Loving someone and having them love you back is the most precious thing in the world." ― Nicholas Sparks
7. "For the two of us, home isn't a place. It is a person. And we are finally home." ― Stephanie Perkins
8. "Love is not a maybe thing, you know when you love someone." — Lauren Conrad
9. "Love, like everything else in life, should be a discovery, an adventure, and like most adventures, you don't know you're having one until you're right in the middle of it." ― E.A. Bucchianeri
10. "I love you more than there are stars in the sky and fish in the sea." ― Nicholas Sparks
11. "True love is finding your soulmate in your best friend." — Faye Hall
12. "I wish there was a word more than 'love' itself to convey what I feel for you." ― Faraaz Kazi
13. "One love, one heart, one destiny." — Bob Marley
14. "Look after my heart - I've left it with you." — Stephenie Meyer
15. "When you've found the right one — when you see him, when you're with him — you'll feel like you're coming home." ― Phyllis Reynolds Naylor
16. "When I saw you, I fell in love, and you smiled because you knew." ― William Shakespeare
17. "I knew why love was always described with eternity. A single minute stretched out for lifetimes." ― Shannon A. Thompson
18. "Happiness is holding someone in your arms and knowing you hold the whole world." ― Orhan Pamuk
19. "And suddenly, all of the love songs are about you." — Unknown
20. "What she had realized was that love was that moment when your heart was about to burst." ― Stieg Larsson