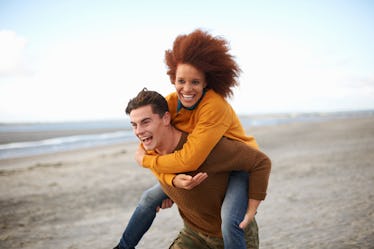 30 Captions For Fall Beach Pics, Because You Need S'more Time At The The Shore
When you think of the beach, you likely envision lazy summer days basking in the sunshine. Sure, summer is meant for getting your fill of surf and sand, but just because the temperature has dropped outside doesn't mean you can't still head to the shore. In fact, the best beach bonfires are when it's crisp and cozy in the autumn. Just imagine snuggling up with bae under a flannel blanket while roasting marshmallows. The fire will keep you nice and toasty under the stars. If you plan on extending your beach time into October, you'll want some Instagram captions for fall beach pics.
Some of the best nights are spent with your friends in the fall. The weather is cool enough that the bonfire and blankets keep you at the perfect temperature. Along with s'mores (which are essential), you can bring along a thermos of hot chocolate to sip away as you keep your fingers heated. Since it's almost Halloween, you could even go around telling your favorite ghost stories.
For this perfect fall evening, you'll want to remember to bring your camera along for some dreamy pics that are lit by the fire's glow. For every Instagrammable picture you take, post it right away with any of these 30 fall beach captions. You don't want to waste any time, because you've got s'mores to eat.
1. "Autumn by the sea."
2. "My happy place."
3. "I could fall asleep to the sound of waves crashing every single night."
4. "Life's a beach, enjoy the waves."
5. "Life needs more beaches and bonfires."
6. "Collect moments, not things."
7. "Every year, I fall for pumpkins, bonfires, s'mores, autumn leaves, apples, and you."
8. "Time to get toasted."
9. "I'd rather have seashells than snowflakes."
10. "You light the spark in my bonfire heart." — James Blunt, "Bonfire Heart"
11. "It's lit on the beach."
12. "Everyone should believe in something. I believe I should go to the beach."
13. "Beach, please."
14. "Nothing better than a day at the beach with the besties."
15. "I need s'more beach in my life."
16. "Fall-ing hard for this view."
17. "Going to the beach in the fall is all about seas-ing the day."
18. "Water you doing this autumn?"
19. "Don't get tide down in the fall."
20. "If there's a will, there's a wave."
21. "Sea you at the beach this fall."
22. "Cold air. Dark night. Warm fire. Bright stars."
23. "This bonfire is lit."
24. "Sitting around a bonfire is when I feel most at home."
25. "Life is s'more fun when you're with your favorite people."
26. "Life's better with sandy toes."
27. "Snuggle season."
28. "Life is a beach, I'm just playing in the sand." — Lil Wayne, "Right Above It"
29. "Constantly in need of Vitamin Sea."
30. "Don't worry, beach happy."
This article was originally published on