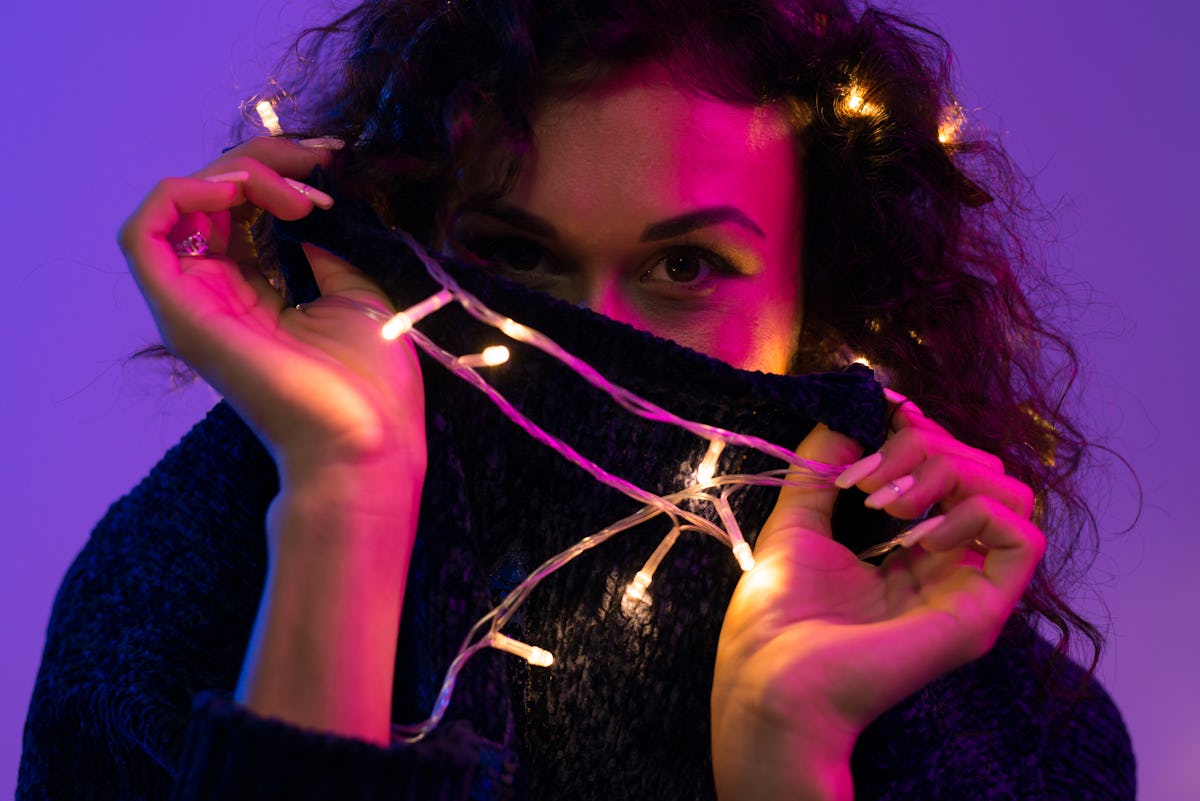 30 Instagram Captions For Fairy Lights That Are So Merry & Bright
If there's one thing I know to be true, it's that it's always a good idea to add more fairy lights. Whether you're decorating for the holiday season or just brightening up your bedroom, string lights are your best friend. Instead of buying a lamp for my bedroom, I decided to hang string lights all around. Fairy lights create a dreamy look for the coziest kind of oasis to retreat to after a long day at work. If you're all about aesthetic like me, you'll want to keep around some fairy lights captions for Instagram pics you take.
With the holiday season officially here, you and your friends likely have plans to scope out the Christmas lights in your neighborhood. When you spot a truly lit house, you'll need to snap a group picture for the 'Gram, with the lights serving as the perfect backdrop. You also may want to spice up your desk at work or in your dorm room, and these fairy lights from Target are an easy "add to cart" purchase that'll make your space fairy-fab. Fairy lights are also a cute way to hang your pics with family and friends in your apartment.
No matter where the lights coming from, you'll want to keep around these 30 captions for any dreamy pics you take.
1. "Your true nature is luminous."
2. "When in doubt, add more fairy lights."
3. "Shine bright."
4. "Everyone shines, given the right lighting." — Susan Cain
5. "Mood: Feelin' cozy."
6. "Just keep me where the light is." — John Mayer, "Gravity"
7. "She's the kind of girl whose light doesn't have an off switch." — j. iron word
8. "Cozy for the holidays."
9. "Leave a little sparkle wherever you go."
10. "I do believe in fairies." — Peter Pan
11. "The only thing getting 'lit' this weekend are my string lights at home."
12. "Kiss me under the light of a thousand stars." — Ed Sheeran, "Thinking Out Loud"
13. "Be happy. Be bright. Be you."
14. "Aesthetic."
15. "Nothing can dim the light which shines from within." — Maya Angelou
16. "Christmas lights instantly make me feel eight years old again."
17. "May your days be merry and bright." — Irving Berlin, "White Christmas"
18. "Christmas lights, city nights."
19. "I believe in fairies and unicorns."
20. "A little magic can take you a long way." — Roald Dahl
21. "Keep shining, beautiful one. The world needs your light."
22. "Shine like the whole universe is yours." — Rumi
23. "Rise and shine."
24. "Leave room in your garden for the fairies to dance."
25. "Everyone is a star and deserves a chance to shine." — Marilyn Monroe
26. "It will all shake out. Meanwhile, I'm putting up more twinkle lights." — You've Got Mail
27. "You mustn't be afraid to dream a little bigger, darling." — Inception
28. "I live in my own little fairy tale."
29. "I love my lights a whole watt."
30. "You are such a light in my life."
This post was originally published on Nov. 26, 2018. It was updated on Aug. 26, 2019.