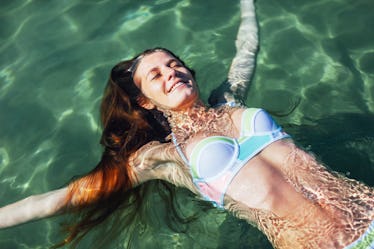 30 Beach Quotes For Your Instagram Bio That Truly Seas The Day
Calling all of those beach babes who live by the motto, "Good vibes and tan lines." You understand the importance of the sand between your toes, and feeling the warm sunshine on your face. Now, with summer finally here, it's your time to shine. To prepare all of your friends for the sun, surf, and sand pics to come, you'll want to add some beach quotes for your Instagram bio. Actually, Instagram is a great platform to show off to your friends what you're all about, and that intro starts with your bio.
When you plan on seas-ing the day, let your friends know what to expect with any of these 30 beach quotes. They'll be a perfect setup for your sunglasses selfies, jumping pics with your BFF, and squad goal photos of everyone laying out on their towels. You really do plan on spending every day by the shore, getting some much-needed vitamin sea, so don't take a moment away from swimming by coming up with a bio on your own. The work's already been done for you, and a simple quote is all you need to convey everything you want to say. Now that we've got the bio taken care of, it's time to head out to the beach for a summer you'll never forget.
1. "Life's just right with the beach in sight." — Unknown
2. "To escape and sit quietly on the beach - that's my idea of paradise." — Emilia Wickstead
3. "Namast'ay at the beach." — Unknown
4. "After a visit to the beach, it's hard to believe that we live in a material world." — Pam Shaw
5. "The tans will fade, but the memories will last forever." — Unknown
6. "We are tied to the ocean. And when we go back to the sea, whether it is to sail or to watch – we are going back from whence we came." — John F Kennedy
7. "All I need is a little vitamin sea." — Unknown
8. "Sea more of the world, one beach at a time." — Unknown
9. "Tropic like it's hot." — Unknown
10. "Seas the day." — Unknown
11. "Girls just wanna have sun." — Unknown
12. "Good times and tan lines." — Unknown
13. "The ocean is everything I want to be. Beautiful, mysterious, wild, and free." — Unknown
14. "I could never stay long enough on the shore; the tang of the untainted, fresh, and free sea air was like a cool, quieting thought." — Helen Keller
15. "To go out with the setting sun on an empty beach is to truly embrace your solitude." — Jeanne Moreau
16. "In this big ball of people, I'm just one grain of sand on this beach." — Aurora
17. "Happiness comes in waves." — Unknown
18. "Life's a beach, enjoy the waves." — Unknown
19. "Let your waves crash down on me, and take me away." — Yellowcard, "Ocean Avenue"
20. "My life is like a stroll upon the beach, as near to the ocean's edge as I can go" — Henry David Thoreau
21. "At the beach, life is different. Time doesn't move hour to hour but mood to moment. We live by the currents, plan by the tides and follow the sun." — Sandy Gingras
22. "Sunshine on my mind." — Unknown
23. "You, me, and the sea." — Unknown
24. "A woman's heart is a deep ocean of secrets." — Titanic
25. "Let the sea set you free." — Unknown
26. "By the beach, near the sea, what a wonderful place to be." — Unknown
27. "The beach becomes a kind of utopia — the place where all our dreams come true." — Roxane Gay
28. "One cannot collect all the beautiful shells on the beach." — Anne Spencer
29. "Nothing soothes the soul like a walk on the beach." — Unknown
30. "The beach is definitely where I feel most at home. It's my oxygen." — Behati Prinsloo