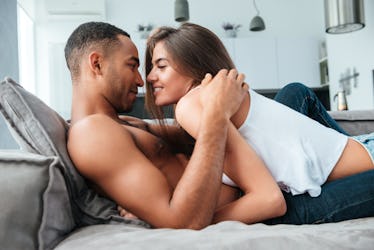 3 Zodiac Signs Who'll Have A Valentine's Day One-Night Stand
Shutterstock
Don't let Hallmark fool you — Valentine's Day isn't only for people in long-term relationships. Whether you meet up with your casual fling, share the day with your dearest friends, or follow a surprise spark with a sexy stranger, there's no shortage of ways to celebrate Cupid's Birthday. Of course, if you're one of the zodiac signs who'll have a one-night stand on Valentine's Day, your plans for Feb. 14 may already be written in the stars.
While astrology can't dictate everything, it's fun to consider how the zodiac influences your love life. Are you a playful Gemini who prefers to keep things casual or unconventional? A creative Aquarius that likes to do things on your own terms, in your own time? Whatever the case, you can celebrate Valentine's Day in whatever way you see fit, from a one-time romp with a Bumble date to a steamy night with a new hookup. However, regardless of your sign, it's imperative to discuss consent and intentions before having a one-stand night. Though hookups can be totally sultry, there's nothing sexy about miscommunication.
If you've talked the talk and you're on the same page, here are the three signs likely to have a hot hookup this V-Day.