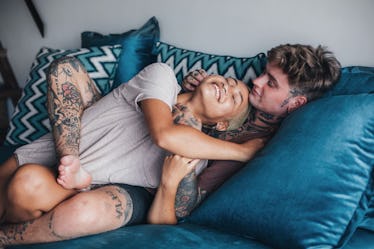 If You Love To Cuddle, You're Probably One Of These 3 Zodiac Signs, So Get Cozy
My partner and I agree on most things, but the amount of time we want to spend cuddling is definitely not one of them. If it were up to them, we'd cuddle constantly; nothing worth doing can't be done in the spoon position. Me, however, well, not so much. A brief little snuggle is nice, but I just can't sit still that long. Also, it's so hot. A girl needs to stay cool in the summer, OK? And this dynamic makes perfect sense when you consider our zodiac signs. They are one of the zodiac signs who love to cuddle, a Taurus, and I am a very cuddle-ambivalent Virgo. Still, we make it work.
Every sign has its own unique way of showing love and affection, and how they interpret it in return. For some, it's by acts of service or being really thoughtful with their actions. For others, it's about giving and receiving affirmations of love. And then there are some signs that really feel loved by physical touch, and, as you can guess, they are all about snuggling up. If that sounds familiar to you, or sounds like someone you are dating, well then, chances are you, or they, are one of these signs.