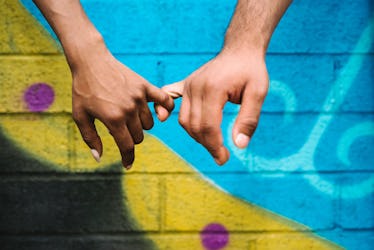 If You Love Holding Hands, You're Probably One Of These 4 Zodiac Signs
Whenever we're walking together, my sweet Taurus partner always reaches out and grabs my hand. They are super affectionate and live for PDA, which makes them one of the zodiac signs that love holding hands. And you know what? I love them, so I reciprocate — despite my extreme Virgo-ness. I mean, after all, isn't that what love is all about? Doing things that make your partner happy because making them happy in turn makes you happy — even if that means dealing with having your hand get a little sweaty and trapped? (What? I said I'm a Virgo, not a saint.) And honestly, it's good that my partner is so affectionate. It helps us create a healthy balance.
They say opposites attract, but that saying is actually only partially correct, in my opinion. You don't always want to find someone who you don't share any similarities with, but rather, someone who, together, helps you create that balance. So, if you're not one for big displays of affection, finding someone who just naturally takes the lead on that helps to smooth things out. If you're someone who needs that or just wants someone who loves holding your hand as much as you loving having it held, then these are the astrological signs for you.