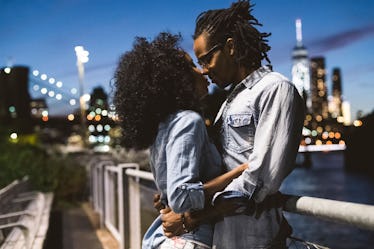 If You Show The Most PDA In Relationships, You're Probably One Of These 4 Zodiac Signs
How comfortable are you with PDA? Do you feel comfortable with a full-on makeout sesh on the street, or does even holding hands make you a little squeamish? If the former sounds like you, then chances you are one of the zodiac signs that show the most PDA. For people who love public displays of affection, it's usually due to one of two reasons: either they don't care what anyone else thinks (so why not get a little physical in public?), or it's because they just plain can't resist.
For folks who are comfortable with PDA, it really comes down to the fact that when they see someone they love, they just have to express it with touch, no matter where they are or who might be watching. In fact, people watching may be some of the thrill. They are proud of their partners and they don't mind that people know they're together. To those who see PDA as taboo, this may come off as rude or self-indulgent, but in reality, PDA is less about sex (though it definitely can be) and more about an expression of love and affection. Just like some folks are free with expressing their feelings with words, a kiss in public can be worth 1,000 words for someone who loves PDA. So, if you are down with smoochin' on the street, you are probably one of these signs.