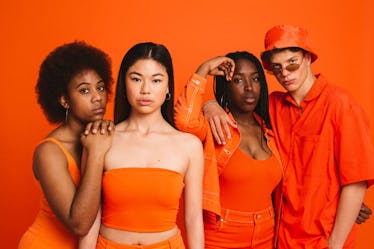 3 Zodiac Signs Who Can't Stay Friends With Exes
Simply put: Being friends with an ex can be complicated. It's certainly not unheard of, nor is it impossible. If you've ever gone through a breakup where your ex admitted they didn't want to stay friends, it was probably pretty painful. Believe it or not, there are a few zodiac signs who can't stay friends with exes, and their reasons for staying away are super varied. These signs are either totally loyal, painfully stubborn, simply good at moving on, or all of the above. If your ex is one of the following zodiac signs, it might make you feel better about deleting their contact info from your phone.
For a while in college, I tried to prove to myself that I could always stay friends with my exes. It felt important to me to keep these people in my life in some capacity, even though our relationships had ended. Shortly after moving to New York City, though, I dated one person who really did not want to talk to me after we decided to end things. Their decision threw me off and felt confusing — no one had ever drawn that boundary with me before. However, once I got used to the idea, the pros of having no contact with an ex were abundant. At the end of the day, as long as you're adhering to everyone's desired boundaries, there's no one right way to break up.
If you're going through a breakup with one of the following signs, their reasons for cutting off contact might explain a lot.