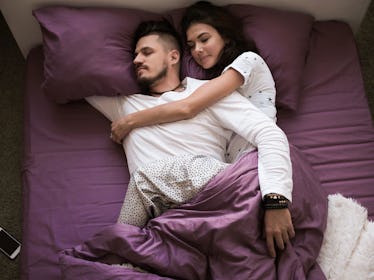 If You Hate Sleeping Over After Sex, You're Probably One Of These 3 Zodiac Signs
I need my personal space. For some people who love to cuddle up, especially after sex, that might seem cold, but just thinking about spooning all night makes me feel claustrophobic. I need to toss and turn at will, I need to not have someone's sweaty front pressed up against my sweaty back for eight hours, but, most of all, I want my own bed. Do I like sex? Sure. Do I like sleeping over afterward? Honestly, no. (This is a safe space, right?) I may not be one of the zodiac signs that hate sleeping over, but I do consider them to be my kindred post-coital-cuddle-free spirits.
Now, that may sound cold-hearted to a Taurus or a Pisces that lives for a night-long snuggle sesh and would take a quick exit personally, but the desire to duck out and head home after sex doesn't automatically say anything about how you feel about your partner. Just because you aren't into the slumber party doesn't mean you don't really love them. It's just that cuddling doesn't have the same meaning, or is as enjoyable, for these signs.
If all of that sounds familiar, then you're probably one of the signs who hates sleeping over after sex — or you're dating one!