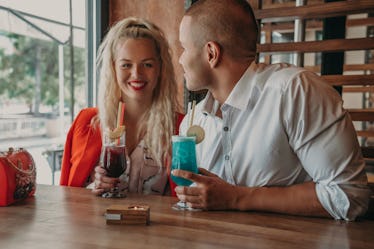 3 Zodiac Sign Pairings Most Likely To Be Basically Dating But Not Official
Shutterstock
It's a tale as old as time: cutie meets cutie. Cutie hooks up with cutie, but they agree that it's a "one-time thing." Cutie then continues to hook up with cutie and "just hang out" (read: go on hot dates) for an extended, undefined period of time. While some couples like to DTR the moment they meet, others — like air and fire signs — tend to enjoy seeing where things go. Of course, if you're one of the three zodiac sign pairings likely to be basically dating but not official, you may already know what I'm talking about.
To quote my ex quoting rapper Pusha T, "If you know, you know." Sometimes, a relationship exists without labels or titles. Whether you're not really interested in defining your relationship or you've literally never thought about it, you get to call the shots. Although it's important to honest and transparent with the person you're seeing (i.e., if they're trying to DTR, and you're not, it's probably time to talk), you never need to quantify or define your relationship for anyone else.
Here are the three zodiac pairings that are most likely to date for a while without ever becoming "official."