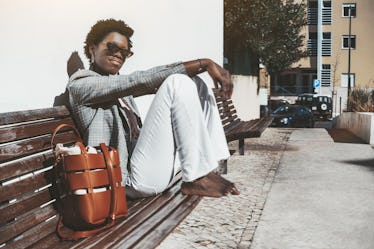 3 Texting Signals That Your Partner's Playing Games, So Hang Up
Shutterstock
So much of getting to know someone new can feel like playing games. Whether it's how long you wait to text each other back or how many exclamation points you add, texting someone new can feel like one big mystery. Once you define the relationship with your partner, it can be relieving to feel like that weird tension is behind you, but that might not always be the case. If you find that they're still being unnecessarily weird over text, texting signals your partner's playing games can be glaringly obvious, and have the potential to make anyone feel insecure about their connection.
Turns out, there's a reason your partner may still be texting you as if you were still dating, and it has more to do with them than it does with you. "If your partner is playing games, it may be a sign of their personal insecurities," Claudia Cox, relationship coach and founder of Text Weapon, tells Elite Daily. "It's not about you. It's not because you aren't exciting, attractive, or amazing enough. It's about them and their insecurities."
According to Cox, if your partner has trust issues or is a self-professed commitment-phobe, playing games may be their way of not getting too connected to you or dealing with their own relationship fears. Although you may love your boo, you never need to put up with shadiness or miscommunication, IRL or on the phone. And if you feel your partner is being dishonest, you might want to communicate your fears to them directly before jumping to any conclusions.
If you're thinking your partner might be playing games, Cox breaks down the three texting signs to look out for.