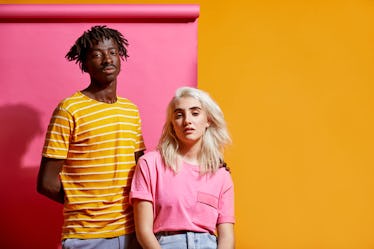 3 Subtle Signs You're Not As Compatible With Your Partner As You Might Think
It's cuffing season, folks. As you head toward colder weather, the end of the semester, and the holidays, you might be looking for something a little more serious than usual. When it comes to starting a new relationship or reevaluating the one you're currently in, assessing your compatibility is key. If you're serious about your relationship lasting, you may want to look out for signs you're not compatible with your partner. I talked with the author of First Comes Us: The Busy Couple's Guide to Lasting Love Anita A. Chlipala, LMFT about telltale signs of incompatibility within a couple.
When it comes to compatibility, Chlipala stresses that compromise and openness are important because every couple has differences to navigate. Compatibility is a combination of numerous factors including both partners' values, attractions, interests, goals, political views, and more. So even if you notice the following signs, it doesn't mean you and your partner have to call it quits. You may just need to look these differences head on because, as Chlipala explains, they are not likely to go away on their own. Check out her advice on which signs to pay attention to in your relationship.