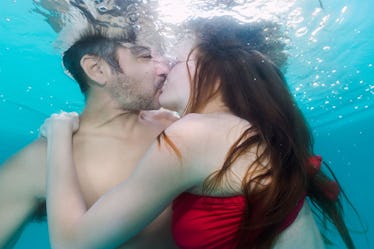 A Sex Therapist Reveals 3 Subtle Signs You're Incredibly Attracted To Your Partner
Can you identify individual signs you're attracted to your partner? It's not as straightforward as you might think. When you have a connection with someone (even just a physical one), it can be difficult to explain what you're feeling at first. Instead of holding on to fairytale ideas about love at first sight or repeating the mantra, "When you know, you know," wouldn't you like to know why? I know I would.
You could just say that person gives you butterflies but LOL, are we in the sixth grade? The metaphorical butterflies you felt fluttering around your stomach back then were actually part of your body's fight or flight response when faced with intense situations (similar to an adrenaline rush). Turns out, it's the same sensation you have when you get nervous about delivering a speech or come face to face with a wild tiger. Your interpretation of this feeling depends on the circumstances, which means it's also how you knew — and still do — that you were attracted to someone. Researchers say the body redirects blood and oxygen from your stomach (which would have been in rest and digest mode) and redistributes it to your limbs in preparation for some deeply terrifying event, like talking to your crush.
Whenever I saw my crush in my public, my cheeks also let everyone else know the good news by turning bright pink. Thankfully, I've since learned to subdue this second response.
There are some things you just can't control, though. Jessica O'Reilly, sexologist and relationship expert, PhD, and host of the @SexWithDrJess podcast, shared the top three ways you know you're attracted to someone.