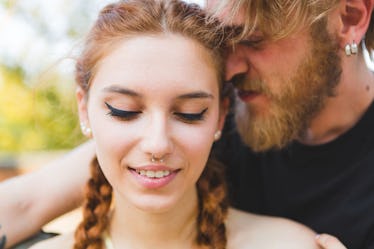 3 Signs Your Partner Is More Emotionally Intelligent Than You According To Experts
I am really attracted to smart people. The smarter they are, the more I want to make out with their face. While there is nothing wrong with that exactly, something I often forget to look for in a partner is emotional intelligence. We all have it in varying degrees. It may be that you are the more empathetic partner, or maybe there are signs your partner is more emotionally intelligent than you.
"Emotional intelligence is the ability to identify and manage your own emotions and the emotions of others," according to Psychology Today. No one wants to feel like they are failing at something, so it's possible that the idea that you're not as emotionally intelligent as your partner probably isn't something you'd want to consider. But here's the thing that is important to remember: Each partner brings different strengths and weaknesses to the relationship, and ultimately. what really matters is finding the right balance between the two of you. Besides, emotional intelligence is actually a skill you can learn, and your ideal partner is one who will help you grow and bring out the best in you. So, if you suspect your partner may be a bit more emotionally intelligent than you, here is how the experts say to know for sure.