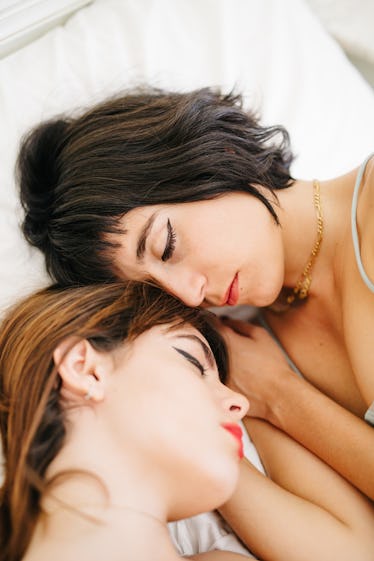 3 Sex Toys For Queer Women That'll Take Your Pleasure To New Heights
There are so many things I love about being queer that it would be unfair for me to rank them. I love that my queerness gives me permission to invest as much in my friendships as I do in romantic relationships. I love that my queerness allows me to select and build my own structures of support, outside of a nuclear family. And I love that my queerness allows me to explore my sex and sexuality without any pressure to conform to gender. On that last note, these are some sex toys for queer women that have helped me through that journey.
Whether you are a woman, man, or non-binary, we all have one thing in common: We have bodies which are deserving of attention and pleasure. These toys can be used alone or in partner play to help you explore your body and connect with yourself or with another person on a higher level. Whether you are into butt play, penetration, or never engage in any penetration whatsoever, these toys have a range of uses that can be used creatively and cooperatively in the bedroom. They are all made of high-grade materials to protect your body, and won't break your wallet either — because everyone is deserving of pleasure, regardless of what's in your bank account.
1. Dame Product's Eva II
The folks at Dame are revolutionizing the sex toy industry, producing high-quality, well-engineered sex toys designed for women, by women. As the very first hands-free, strap-free, non-intrusive couples' vibrator, the Eva II is one of their must-have products for lesbian couples. Constructed out of smooth, high-quality silicone, the Eva II features flexible wings that will fit snugly under most labia majora, stimulating the clitoris either during partnered sex or masturbation. Available in two different, appealing colors — quartz pink as well as the fir green pictured above — the Eva II is also whisper quiet, waterproof, and comes with a rechargeable USB cable so you can take it with you wherever you go.
2. Pleasure Chest's Mini Marvels Massager
This mini silicone vibrator is such a discreet little cutie that you'd never guess how intense its 10 different levels of vibrations and pulses really are! The vibe fits between your fingers and will level up either solo or partner play. It's also waterproof, has a one-year warranty, and is rechargeable, so you don't have to worry about hunting down batteries when the fun stops. All of that for less than $60 sounds like a bargain to me.
3. Unbound's Squish
Sorry (not sorry) that I'm completely obsessed with Unbound! If you don't already know about this absolute little jewel of a sex toy, you totally should. The Squish is one of my absolute favorite toys for non-penetrative pleasure. This highly responsive toy intensifies its vibrations depending on how tightly you're squeezing it, which means it's basically customized to work with every body, at every pleasure threshold. The toy can also be taken in the bath for some water play. It fits in your palm and is pretty quiet and discreet, making for a great travel buddy.
And if that isn't enough to sell you on the Squish, you should know that this toy has the ability to record different rhythms of pulses. You can position it between you and your partner's bodies to enhance your orgasm, use it on its own during solo sessions, or even combine it with smaller bullet vibes or penetrating sex toys to really switch up your pleasure. This is one of the most versatile sex toys I've ever had, and I think it belongs in every queer person's treasure chests. Get yours today!
All women, men, and GNB angels deserve to explore their bodies and discover their own pleasure the way that they see fit. Hopefully, these toys will simultaneously charge up your sex life and allow you to celebrate your queerness!