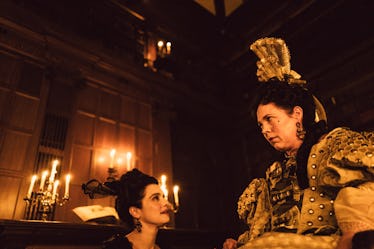 3 Best Sex Scenes From 'The Favourite' That Are Royally Hot
When I saw The Favourite, I was convinced that the universe created the film to destroy me. It's a period drama (with a dash of comedy) set in 18th-century England, with sumptuous costumes, smart editing, strong lady leads, politics, and loads of scandal. Oh, and the sex scenes from The Favourite are ultra hot. The hour and 59 minutes of exquisite sexual tension that is The Favourite is yummy for more reasons than one. For starters, Emma Stone, who plays fresh-face-in-court Abigail Masham, is just about every millennial's celebrity crush. And then British baddie Rachel Weisz plays Sarah Churchill a.k.a. Lady Marlborough, confidante, political advisor, and lover to Olivia Colman's Oscar-winning Queen Anne. The fact that Weisz looks fierce in Sarah's seemingly endless supply of lacy, cleavage-bearing, black dresses (as well as nails the whole 18th-century f*ckboy look of breeches, boots, a waistcoat, and a tricorner hat) is truly enough to make me break out the vibrator.
But another reason The Favourite's sex scenes are just so much is because they're so damn juicy. No one in Queen Anne's court ever hooks up just because. There's always always a chess move being played. Someone's always out to finesse. Along with needing a cold shower, watching the queen and her court get it on in The Favourite will have you yelling at your screen. So, without further ado or major spoilers, here are three key scenes from The Favourite that had me reaching for my iced coffee and squirming in my seat.