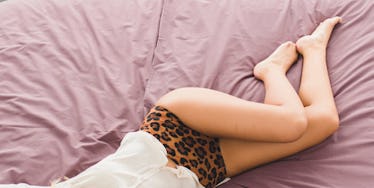 Yes, Women Fantasize: The Psychology Behind The Most Common Female Sexual Fantasies
In 1973, it was believed that only men had sexual fantasies.
In fact, Cosmo even opened up a feature article that same year with, "Women do not have sexual fantasies, period. Men do."
Much has changed since then, of course. While we still live in an age where female sexuality is more taboo than it should be, let the records show that women enjoy sex just as much as men.
Women even have sex drives so high that men may not be able to handle them, considering men have been so socialized to value their own pleasure above a woman's.
Did you know that a man can show his orgasm face in a movie, and the movie can still be rated PG-13, but if a woman shows her orgasm face, the film is automatically bumped to R or NC-17? What does this say about how society perceives women experiencing pleasure?
It's time we contribute to the discussion and ponder our deepest sexual fantasies.
If you've ever had a sexy thought pop into your head that flushed your cheeks and made you shift in your seat, know that it probably wasn't that crazy at all. Always kinky and sometimes uncontrollable, sexual fantasies are far more common than you think.
Since these fantasies live within the unconscious mind, they sometimes go a little further than your actual body might want to -- but, hey, that's why they're called fantasies.
1. Dominance
Matthew Hudson of Psychology Today says, "It's been said that those who are easy-going in real life tend be dominant in the bedroom, and those with type-A personalities like to be submissive."
In an age where men systematically rule, women fantasize about being dominant in the bedroom. Women want to have their bodies worshipped, call the shots in bed and be begged for more.
Laci Green, YouTuber and public sex educator, says it's about a combination of being in a position of power and being desired.
In her book "Garden of Desires," Emily Dubberley, British author and journalist who specializes in sex and relationships, notes that dominant sexual fantasies can include cheating on your boyfriend, controlling a personal erotic slave, decking out in leather and embodying a true dominatrix, or sticking to an assertive version of yourself. This fantasy focuses on the woman mainly receiving the pleasure and the man giving it to her without question.
Female sexuality is often overshadowed by a man's desire for sex, so it's only natural that women fantasize about being the most important person in the bedroom.
2. Submission
Submission fantasies are a surprisingly common category, and they include everything from simply giving in to the desires of a dominant man, to BDSM, to sexual assault, to rape.
These fantasies tap into the question, "To what extent is the personal political?" That is if you're a feminist and a strong, powerful woman, why would the idea of completely submitting yourself to someone else be such a turn-on?
Green hypothesizes three main theories: Submission fantasies, specifically the most intense ones like rape, could be 1) an internalization of extreme expressions of "normal" power dynamics, 2) an extension of how our culture eroticizes aggression and violence, or 3) a guilt mechanism.
Submission means force, so women would be able to engage in wild and crazy sexual escapades without feeling weird, or a sense of guilt, about it. The idea would be that the woman tried to stop the kinky sex from happening, but the pleasure came anyway, so you can't blame her! She's still innocent.
This is not to suggest that women want to be raped, sexually assaulted, or give up control in life. Sex and life run on separate tracks, says Linda Alperstein, a sex therapist from San Francisco. Being spanked doesn't mean you wish for your husband to hurt you. Real-life power struggles, Alperstein says, are not reflected in sex.
In some ways, according to Dr. Leon F. Seltzer, a woman putting herself in a sexually submissive role is the ultimate level of control because it's such a stark variant from what she would do in real life.
The element of control here is having the choice to make such an extreme decision. Forced submission, as is the case with real rape or sexual assault, is obviously not a choice. In a submission fantasy, however, a woman wants to be submissive. In other words, it is her choice to do so.
3. Watch or Be Watched
Ah, voyeurism and exhibitionism. Whether you're doing it in a crowded nightclub, in front of a large window so your neighbors can get a show or watching other couples get it on, women fantasize about sex that includes a witness. This can even include filming yourself and creating a mini-porno to watch later.
Dr. Laura Berman says it's all about the adrenaline that comes with the fear of being caught in the act. I'd say it's like an extreme version of that because, well, in some cases you've been caught.
Exhibition-style sex can also provide a huge ego boost. Dr. Drew Ramsey, a psychiatrist at Columbia University Medical Center, told Maxim that "there's a sense of power that can be derived from seducing someone at a distance."
Embodying a porn star and having someone watch you and get super turned on is enough to make the even shyest girls get freaky. It's all about being in control of someone else's pleasure.
4. Role-Playing
This can include simple or complicated role-playing. Simple role-playing can mean just a change in your personality or embodiment of someone else without getting dressed up.
Complex role-playing, such as dressing up as a teacher/student, nurse/patient, or even stripper/CEO, involves acting and shamelessness.
Feeling comfortable in real life, after telling your partner he's overdue for a check up and you have to examine his prostate, is the key to role-playing fantasies.
This includes another element of submission and dominance. It's about taking a relationship between two people where one has more power than the other (nurse and patient, for example, where the patient is at the mercy of the person taking care of him), making the power dynamic in said relationship extreme, and eroticizing it.
It's also about the anticipation. You and your partner are coming together creatively to set a mood, set up an atmosphere and anticipate the pleasure; all of this preparation heightens the excitement for the main event.
As we know, anticipation increases levels of excitement, so taking the time to construct and arrange the scene creates a big script to lead to the finale.
5. Atypical One-On-One Session
How does sex with a woman or a celebrity sound? What about with an ex or a stranger? Single women and women in relationships alike often fantasize about these things.
These fantasies don't mean women in relationships love their partner any less or that they'll necessarily act upon those fantasies; in fact, many healthily married couples fantasize about having sex with other people.
Dr. Joyce Brothers says this kind of fantasy is a "perfectly legitimate way to add variety to sex," since it spices things up without messing up the monogamy. As long as it remains a fantasy and doesn't lead to infidelity, it's okay.
Celebrity
Ryan Reynolds is hot. No further explanation needed here.
Girl-on-Girl
Many women fantasize about having sex with another woman. This doesn't necessarily mean they're lesbians. Green points out that these kinds of fantasies mean you can appreciate a woman's body and curves just as much as society does.
It also means women know that another woman would understand her body perfectly and would know exactly how to get her to climax.
An Ex
As far as an ex goes, Dr. Berman says it's normal to fantasize about an ex who may have rocked you sexually, loved you and then left you behind. In this case, it's the familiarity that turns you on. You know your ex knows exactly how to push your buttons.
Stranger
Women are turned on by the idea of having sex with a stranger. It's about the spontaneity and the fact that you'll never see this person again.
Green says that women often feel inhibited in their sex lives and unable to have casual sex without social repercussions, so in this fantasy, a woman can let her freak flag fly without shame or guilt. This person doesn't know her, and she doesn't know him. No judgment here.
6. Group sex
Ménage a trois, anyone? Group sex, says Dubberley, is appealing because it would literally be very stimulating. Multiple hands would be touching you all over, in all of your erotic zones, whether the hands are those of strangers or of other women to whom you're not normally attracted.
About 15 percent of women fantasize about group sex, which means it seems to offer the greatest division between emotions and pleasure.
It's a widely accepted idea that women need to feel emotions towards someone to have sex with them. However, since a woman is probably not going to be in love with everyone she's orgy-ing with, this fantasy breaks that accepted stereotype.
Photo Courtesy: We Heart It