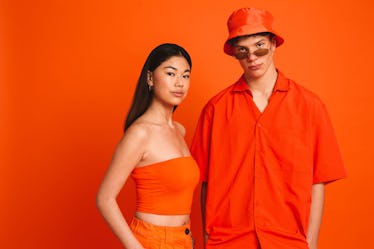 The 3 Kinds Of Fights That Should Be Off-Limits In A Healthy Relationship
Bonninstudio, Stocksy
Whether you and your partner have different opinions on a topic or you don't always agree on the best way to handle a stressful situation — navigating conflict is a part of every relationship. Sometimes it takes a while to feel comfortable expressing your needs to the people you date. But stating what is on your mind can be super important when trying to find some common ground during an argument. And while dealing with relationship conflicts is a totally normal and healthy thing, there are a number of off-limits relationship fights that you may want to steer clear of.
"The more intimate we become, the easier it is for us to lose the boundaries that need to be there to protect ourselves as individuals," Dr. Joshua Klapow, Ph.D. Clinical Psychologist and Host of 'The Kurre and Klapow Show,' tells Elite Daily. "When it comes to disagreements/arguments there are certain boundaries that need to be established — these are the off-limits actions that cross lines and are not productive. Fights that have these components should be off-limits in a healthy relationship."
While open communication can sometimes mean engaging in some healthy disagreement, Dr. Klapow shares the three types of relationship fights that cross the line.