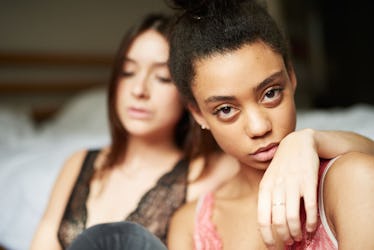 7 Terrible Things You Should Never Say To Your Partner In The Middle Of A Fight
Fights happen in romantic relationships, period. Arguing isn't necessarily a bad sign in itself, but there are definitely healthy and unhealthy ways to handle relationship conflict. When it comes to things not to say during a fight with your partner, certain kinds of dialogue should be completely off-limits. In the middle of an argument, tensions tend to be high and you may find yourself getting caught up in the heat of the moment. But whether you're intentionally trying to hurt your partner, or you accidentally let something slip out of frustration, you're probably aware that there are specific topics you should stay away from at all costs.
Your relationship can come back from a disagreement, but the way you choose to fight can promote resentment and decrease trust over time. Unless you want to break up, it's best not to resort to making empty threats or giving petty reminders of past mistakes. Saying terrible things won't help anyone. By engaging in these types of harmful dialogue, you're only adding fuel to the fire. So in order to prevent one or both of you from getting burned, it's important to be aware of these seven things you should never say to your partner in the middle of a fight.