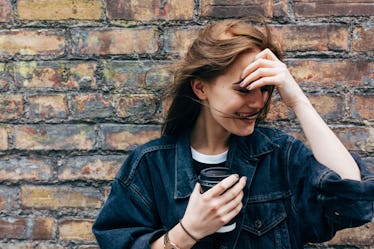 Experts Reveal 3 Little Ways To Put Yourself First If You're Usually A People-Pleaser
Ever since I can remember, my number one priority was to keep the peace. It's like my goal in life is to keep my relationships stable, my parents proud, and my teachers/supervisors impressed. With that much pressure on a person's shoulders, it's amazing to me that I can even find a few hours to spend on nothing but myself. Sound familiar? If it does, you, like me, probably need to establish some little ways to put yourself first pronto because, as admirable as it may be to do what you can to make others happy, patience is a virtue, and you're bound to lose it leading the lifestyle of a constant people-pleaser.
According to Robert Glatter, M.D., an assistant professor of emergency medicine at Lenox Hill Hospital, Northwell Health, a people-pleaser is someone who "sacrifices their interests in favor of, and in place of their own desires and wishes." Now, from my understanding, that basically means living the life of a people-pleaser is two-fold: You're damned if you do, and you're damned if you don't. When you're a people-pleaser and you fail to actually please other people for whatever reason, your self-esteem tends to take a hit: You feel like you've done something horribly wrong, even if it's not really a big deal to anyone else. But then, on the other side of that, in choosing to put others before yourself, you are, in a way, failing yourself, because your happiness is put on hold for the sake of other people. I realize that probably came off as a rant, but TBH, Glatter agrees.
"The sacrifice of your own happiness creates a negative feedback loop whereby you keep trying to achieve happiness, but at the expense of making other people happy and content," he tells Elite Daily. "Meanwhile, you lose control of your own wants and needs, and can't achieve the happiness you ultimately desire." In other words, this kind of dynamic is pretty similar to the whole, "you can't love someone else until you love yourself" scenario. How can you make someone else happy if you don't even know how to satisfy yourself? If that sounds like a pretty toxic cycle to you, that's because it is.
See, the phrase "everything in moderation" doesn't just apply to food. The amount of time and energy you spend trying to please others should be kept in moderation, too. Think of it this way: If you never consider anyone else's emotions but yours, then you risk hurting the feelings of someone you care about. But if you only think about everyone else and never take your own well-being into consideration, you sacrifice your own happiness. Therefore, it's best to land somewhere in the middle of the spectrum because, if you lean more toward the latter, according to Psychology Today, you might start to feel paranoid over the possibility outshining others, take on more responsibility than you can handle, and/or ending up caving into social pressure to do things you might not otherwise want to do.
But I know what you must be thinking, because I've been there, too (many times): How do you put yourself first if you've always been a people-pleaser? Here are a few expert tips to help you out.