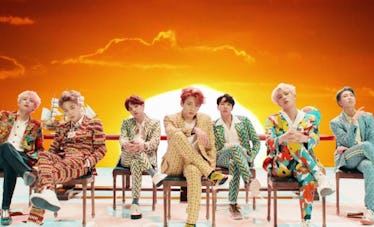 3 BTS Group Halloween Costume Ideas That Will Have Your Crew Looking Cool AF On Halloween
YouTube
Are you part of the BTS ARMY? If you are, then you'll know that the K-pop band has been rising to international levels of fame recently, creating hit songs that are universally loved and adored (and are breaking records on the Billboard charts, NBD). Though they've been around since 2013, the men of BTS really started to turn heads (and drop jaws) stateside in 2017, proving that they were all as equally talented as they were handsome AF. And now that we're nearing towards one particular holiday that allows you to dress up as *whoever* you damn well please, why not do you and your crew a favor and arrive at a Halloween party dressed like Jungkook, Jimin, V, Suga, RM, Jin, and J-Hope? That's right you guys, I'm talking about BTS group Halloween costumes that you and your friends can rock, because nothing says die-hard ARMY like dressing up like your idols.
And it's honestly not that difficult. Will dressing like Jungkook give you major sex appeal? Debatable. Will dressing like Jimin magically give you ripped, 6-pack abs? Probably not. But none of that really matters, because once you and your squad roll up looking like BTS replicas, it's pretty obvious who's going to win the costume contest.
To Dress Like The BTS "Idol" Video:
OK, you guys. You know that the "Idol" video has the BTS boys wearing the coolest looking eclectic suits you've ever seen. The colors! Those patterns! I'm actually obsessed in a way that I'm not sure is all that healthy. While you could totally ball out with this costume (I'm talking hundreds and hundreds of precious dolla bills), there are a few less expensive alternative for you and your crew:
Men's OppoSuits Slim-Fit Suit, $99.99, Kohl's
It's loud. It's colorful. It's definitely BTS-worthy.
Mens Stylish One Button Jacket, $39.99-$69.99, Amazon
A cheaper alternative to a suit — a blazer! Just grab some funky pants, and you'll be good to go.
XQS Men Slim Fit Floral Printed Jacket, $46.35, Amazon
Is it just me, or does this look like a blazer that one of the BTS boys actually have? I'd low-key want to wear this on an everyday basis.
To Dress Like The BTS "DNA" Video:
Another group of outfits from BTS that just crushes the fashion game. We've got colorful sweaters, sequin bomber jackets, and tons — TONS — of white pants and ripped denim. So basically, no matter what you end up wearing for your top half, just make sure you're wearing white pants or ripped denim.
Multicolored Strip Sweater, $19.99, Forever 21
Add a pair of (you guessed it) white pants or some ripped denim, and BOOM! You're now in a music video with BTS.
Paper Tee Metallic Sequin Bomber Jacket, $27.99, Walmart
Hey, guys! Guess what you should pair this bomber jacket with? Yep, white pants and/or ripped denim. If it sounds like I'm repeating myself, it's because I am. Sorry, not sorry.
Now, all you gotta do is use some spray-in hair color to pump up your hair, and boom, you're basically a BTS member.
To Dress Like The BTS "Fake Love" Video:
If you're sensing a theme with BTS, it's *probably* that they love white pants and ripped denim. And you're not wrong. But the one great thing about that is that you (or a sister or a roommate) definitely have either of those in your wardrobe, so your costume is already halfway completed!
For their "Fake Love" video, it's all about layering your top half, which is pretty perfect considering Halloween can get chilly.
Zebra Pattern O Neck Short Sleeve T-Shirt, $10.92, Amazon
Then, just layer your tee with a sparkly bomber jacket, like this one:
Soho Glam All Over Sequin Bomber Jacket, $26.99, Amazon
Sparkles and sequins are basically a BTS staple, and this bomber jacket could actually get some pretty good use in your wardrobe, too. Win-win!
You could try a faux leather jacket like this one, too:
Men Faux Leather Double-Breasted Jacket, $39.90, Uniqlo
Now onto more shirt options!
Distressed Longline Tee, $20.00, Forever 21
It might look like someone took a scissor to your favorite white t-shirt, but man does BTS make this ~lewk~ work. Then, just add a sequin denim jacket, like this:
Sequin Walk Denim Jacket Light Wash, $39.99, Fashion Nova
Like I said, you guys. Sequins and sparkles are key. And denim, naturally. If you're really going for the full look, then pair your outfit with some cool Chuck high tops, like these:
Converse Chuck Taylor® All Star® High Tops, $54.99, Zappos
Sure, these are a splurge, but they're also hella cool. Worth it, IMO.
Then, just get your trusty spray-in hair color and you've pretty much secured your place in BTS' next debut.
So there you have it, ARMY. Now go work on a choreographed dance routine and crush it at your Halloween party.