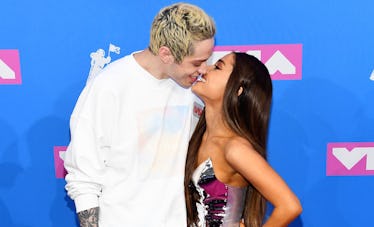 3 Ariana Grande & Pete Davidson Costume Ideas That You'll Be Comfy AF In This Halloween
Nicholas Hunt/Getty Images for MTV
Halloween 2018 is upon us, my spooky friends. If the year of 2018 hasn't killed your joy yet (congrats!) and you and bae are looking forward to planning some dope Halloween couples costumes, you need look no further. These Ariana Grande and Pete Davidson costume ideas are everything you need.
This year has been the year of celebrity flash engagements. Three famous millennial couples — Ariana Grande and Pete Davidson, Justin Bieber and Hailey Baldwin, and Nick Jonas and Priyanka Chopra — all got engaged in a flash after only having dated for a few months (maybe even shorter in Grande and Davidson's case). If you and your partner are looking to emulate relevant pop culture moments of 2018, these engagements are some of the biggest. The best part about emulating Ariana Grande and Pete Davidson is that they're dressed in hella comfortable clothing 90 percent of the time, so your odds of being able to wear sweats for this costume are high.
Here are some of Ariana Grande and Pete Davidson's best looks that make some of the easiest, quickest Halloween couples costumes.
1. Pete and Squinting Ari at the 2018 VMAs
Ariana Grande had fans in stitches during the 2018 VMAs because every time she was watching someone on stage during the show, she had to squint her eyes in order to see them clearly. It's a thing she does during interviews, at past award shows, you name it, proving homegirl could really benefit from contacts. Though, it'll be a sad day when we no longer have Squinting Ari content.
The main things you need for this costume are a little black dress and a crew neck sweatshirt — two things we all already have in our closets. If you really want to be on the nose with this costume and buy new things to accomplish it, that's your prerogative, but this is one of those couples costumes you can create from items you already have at home.
To recreate this VMAs look, one partner will need to wear a little black dress of your choosing. Just make sure it's strapless (or at least off-the-shoulder) and not floor-length, and you're set. Match that dress with rhinestoned choker and your favorite thigh-high black boots (heel or no heel, your choice), and you're good to go. If you're looking to buy a new dress for this occasion, Fashion Nova has a wide selection of styles and sizes, as well as good options for shoes. The best part about Fashion Nova is how affordable its products are, so this won't break the bank and you'll be able to where this outfit again. Here are some options you can snag to accomplish this look.
Do or Die Dress - Black, $29.99, Fashion Nova
Vicky Over The Knee Boot - Black, $49.99, Fashion Nova
Ember Choker Earring Set - Silver, $7.99, Fashion Nova
While Grande changed her outfit multiple times throughout the night, Davidson didn't, so the second costume idea in this list also partially accommodates the first.
2. VMAs Red Carpet Pete and Ari
Ariana Grande and Pete Davidson made their first red carpet appearance at the 2018 VMAs. This marked Grande's first look of the night (and also one of the first times we saw Grande on a red carpet without her signature ponytail). Davidson's outfit was trendy casual, and Grande was looking like a pop star from Zenon: Girl of the 21st Century with her look. Here's how you can recreate them.
NASA Worm Logo Long Sleeve Tee, $39, Urban Outfitters
UO Cargo Pocket Sweatpant, $29.99, Urban Outfitters
Throw on your favorite pair of sneakers and a bracelet with your bae's initials on it, and you're ready to go. As for Grande's futuristic look, here are some options for you.
Midnight Hour Metallic Dress - Silver, $34.99, Fashion Nova
She Isn't Ready Heeled Boot - Silver, $49.99, Fashion Nova
Add whatever jewelry you deem fit and wear your hair down, and you've got your Ari look down.
3. Forever Comfy Pete and Ari
This couple loves their sweats. Whenever they're spotted out walking about in New York City, they're mostly seen wearing trendy but comfortable sweats. Grande particularly likes to wear oversized sweatshirts as dresses paired with boots, so you could easily choose one of the boots mentioned above and pair them with an oversized sweatshirt of your choosing.
At one of Grande's Sweetener Sessions on Aug. 23, Grande wore some of her Sweetener merch paired with a pair of baggy cuffed jeans and black heeled booties. Here's how you can recreate that look, minus the jeans (because do I really need to tell you wear to buy jeans)?
Stairs Crew Sweatshirt, $55, Ariana Grande Official Store
She Wildin Platform Bootie - Black, $42.99, Fashion Nova
You could also just throw on your favorite oversized crewneck sweatshirt paired with your favorite pair of skinny jeans for this one. Throw on some heeled booties and put your hair in a low ponytail, and you're about to be the comfiest person at your Halloween party.
If you want to wear a sweatshirt but don't want to drop $55 on Grande merch, here's another great option.
Kurt Crew Sweatshirt - White, $24.99, Fashion Nova
As for the Pete Davidson half of this costume, you'll need a black hoodie and black pants. You can throw on the black cargo pants listed above, or any loose-fitting black athletic pants to go with this, as well as sneakers.
If you don't know where to find a plain black hoodie (why...?), here's a good option.
Men's Standard Fit Long Sleeve Fleece Hooded Sweatshirt, $16.99, Target
For all of you couples dressing as Pete and Ari this Halloween, just know how jealous I already am of your comfy as hell outfits.